The bit is one of the most important and sophisticated pieces of equipment a horse owner will choose, but it is often selected with the least thought. "It was suggested by my friend. It's what all the horses in my division wear. It's just what I've always used, no matter what horse I'm riding."
Today there are hundreds, perhaps even thousands of bits on the market for English and western riding disciplines. But there are a few recent advances that have a remarkable amount of science and technology built in. If you are looking for the ideal bit that will add synergy to your relationship with your horse, and you want to go beyond the traditional options, read on about some novel bit innovations.
But before racking up your credit card bill for yet another piece of tack, pay the equine dentist to have your horse's mouth checked. Then, budget for some riding lessons: A rider's skill level greatly influences how comfortable a horse is in the bridle.
Pain Management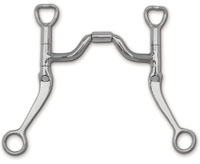 Myler's Ported Barrel Mouthpiece is curved upward 1½ inches to alleviate tongue pressure and features a jointed barrel center that doesn't pinch.
"The mouth is the most misunderstood part of the horse," says Dale Myler of Marshfield, Mo.-based Myler's Inc. "If you lead a horse and he's gimpy, you know he's lame. If you're grooming him and he starts to flinch, you know he's sore somewhere. But if he's evading the bit, then what? As caretakers, it's our responsibility to figure out what the problem is."
A family enterprise, Myler's has been designing custom bits for more than 10 years, and in 1998 started designing production bits. With a broad range of cheek styles and mouthpieces, Myler's strives to meet specific horse and rider needs, regardless of the riding discipline.
According to Dale, bit evasion is often caused by too much tongue pressure, which creates an inability to swallow. To help alleviate tongue pressure Myler's has incorporated some unique design elements in its bits, including curved mouthpieces and Independent Side Movement, a trademarked innovation that allows the rider to isolate one side of the bit.
While Myler's offers many bit variations, including traditional snaffles, Dale says snaffle bits are sometimes overrated. "People often think a snaffle is such a nice bit, and a ported bit is a bad bit. It's not always the case. It depends on the shape of the ported bit. How wide is it underneath, versus how narrow and how high?"
Brenda Imus agrees that snaffle bits aren't always gentler. Brenda is a clinician, trainer and breeder who specializes in gaited riding horses. She is also the president of Kennedy, N.Y.-based Gaits of Gold Inc., which markets several bits designed for gaited breeds. "In my personal observations, a properly designed curb bit is more effective and humane than many snaffle bits, and is universally more effective for gaited horses," Brenda says. However, she believes that an effective and humane curb bit should feature some key elements: "If the rider is using a curb bit, the ratio of the purchase (shank above the mouthpiece) should be about half the length of the lower shanks." When the purchase is much shorter than the lower shank (less than half the length), Brenda says the action of the bit is likely too abrupt, and/or too severe. She explains that a two-to-one ratio helps set the horse up, both mentally and physically. "The correct ratio of two-to-one results in a bit that asks the horse for a response in a logical, progressive manner."
Dale Myler also disagrees with the long-held idea that the bigger the diameter of the mouthpiece, the softer it is in the horse's mouth. He suggests trying out different bits to determine which is really most comfortable for your horse. Bit discomfort can be seen as pulling, inverting, going behind the bit, gaping mouth, et cetera.
Others share Dale's view regarding bit diameter. Hilary M. Clayton, BVMS, Ph.D., MRCVS, Mary Anne McPhail Equine Performance Center dressage chair, Equine Sports Medicine, Large Animal Clinical Sciences, College of Veterinary Medicine at Michigan State University, has researched bit action in the horse's mouth and says, "It's wrong to assume that mouth size is related to horse size. Some small horses have lots of room in their mouths, and some large horses have small oral cavities." Dr. Clayton suggests getting an idea of how much room your horse has in his mouth by putting your finger between his bars, in the position of the bit, to get a feel for the bit thickness that can be accommodated. "Most people will be surprised how small this gap is," Dr. Clayton says. "Some horses have a large tongue that bulges between the gums in the area where teeth are absent." This is the space where the bit sits, and in many cases there's not a lot of room.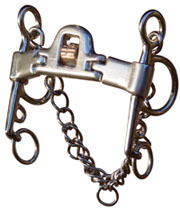 The Mikmar Jointed Pelham Bit incorporates traditional cheekpeices with a wide, flat, lightweight mouthpiece that contours to the horse's mouth.
Bucking Convention
Frank Evans, founder of Sunland, Calif.-based Mikmar Bit Company, spent his life perfecting bits to provide effective results without abuse to the horse. The highly unconventional original Mikmar bits are designed to encourage vertical and lateral flexion, balance, self-carriage and a soft mouth … and they have a distinct look.
But Mikmar hasn't always had an easy go in an industry so steeped in tradition. "For people who see the original Mikmar bits for the first time, they usually get a negative impression," says Dan Weyand, president of Mikmar Bit Company. "People who are not familiar with them automatically think they are severe. Then they pick one up and realize it is very lightweight.
"So many problems are created when horses try to avoid the pressure a bit applies," Dan continues. "We try to design bits that 'get along' with the horse—more of a handshake than an argument."
That handshake has turned some heads, and some internationally renowned top riders have decided that Mikmar has something to offer their horses. Olympic show jumpers Chris Kappler, Otto Becker and Ludger Beerbaum have all used Mikmar bits with great success in competition.
"Frank Evans first invented the Mikmar Training Bit in 1953, and he sold them one at a time out of his barn. He never really marketed that bit nationally—it was just a word of mouth thing among trainers in Southern California. That's why only a handful of people today remember the start of Mikmar," Dan says. "It was an idea that really didn't explode until 2003. He invented our best selling Combination Bit in 1999 while he was in the hospital, right before he died. He never saw one mass produced."
Dan says in 2003, word was out in Europe about how well the Combination Bit worked. "In June 2003, I walked onto the show grounds in Aachen, Germany, and I looked into the warm-up ring. Half the international riders were in Mikmar Combination Bits, and I looked up in the sky and said 'Well Frank, your bits are now famous!' Ludger Beerbaum went on to win the big Grand Prix in front of 50,000 show jumping fans riding Goldfever in the Mikmar Combination Bit. In a television interview afterward, Ludger mentioned that the Mikmar Bit was part of his winning effort … over the next six months we shipped more than 6,000 Combination Bits to Europe," Dan says.
Along with its hallmark original bits, Mikmar has more recently designed some traditional bits, the Cupreon Ergöm Lozenge line, some of which are even approved for dressage competition. But Dan insists the new designs are just as soft as the company's signature bits. "Although looking quite traditional, the new bits are designed to complement our original bits."

Herm. Sprenger's WH Soft Snaffle features a durable rubber cover over the center link, which pacifies a horse that clenches or grinds his teeth.
Metal Detail
Today's bit manufacturers are placing a lot of emphasis on the materials used to make their bits. Many companies use patented metal alloys in their bits that typically contain stainless steel and copper. Mikmar calls its alloy Cupreon; Myler's is called Cyprium. The metals are all designed to increase salivation in the horse's mouth.
The patenting of metal alloys for bits can be traced back to German-based Herm. Sprenger, which developed a patented Aurigan alloy for its bit designs. "Aurigan is the first metal in history developed exclusively for use in the horse's mouth," says Lorelie Carter, U.S. manager for Herm. Sprenger. "Aurigan combines the benefit of the strength of stainless steel with the benefit of the salivation properties of copper. Salivation is necessary as it is the only lubrication between metal and flesh. The horse cannot accept the bit and listen to instructions if he is uncomfortable in the mouth."
Of course metal isn't the preferred choice for every horse. For example, Happy Mouth bits, distributed through English Riding Supply, are covered with a soft, flexible, yet durable, apple-scented polymer that is designed to encourage acceptance and softness. And rubber mouthpieces have long been popular among some riders who opt for softer, more forgiving materials.
Time for Change?
Comfort for our horses, regardless of riding discipline, should always be top priority when selecting a bit. Yet there are still some hurdles to cross, including staid tradition and rules that govern equestrian sport regarding bitting. "I don't know why we have so much mindset on tradition, instead of comfort for the animal," Dale Myler says. "If you can do something to make your animal more comfortable, more relaxed, for crying out loud, do it."
Dr. Clayton concurs. "Ultimately, I would like trainers to be able to choose among a range of bits that cause no obvious sources of discomfort for the horse."
Weigh in on the discussion. Share your opinions on bits at HI Spy >>
Read up on the different types of bits with our Bit Guide
---
This article first appeared in the April 2006 Issue of Horse Illustrated. Click here to subscribe.