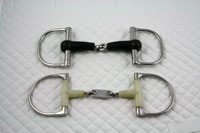 D-ring: This bit gets its name from the shape of the bit ring, which is shaped like the capital letter "D." The design fixes the bit in the horse's mouth, preventing it from rotating and also from being pulled into the mouth when a direct rein is used. This aids in turning a horse, similar to the full cheek snaffle.
The actual mouthpiece can vary, but it's typically a mild to moderate type of snaffle.
A D-ring snaffle seems to complement the shape of every horse's head.
D-ring snaffles are the most popular bits for both show hunters and American race horses.
Next Bit >>
Back to HorseChannel's Online Bit Guide
Back to HorseChannel's Online Tack and Horse Equipment Guide