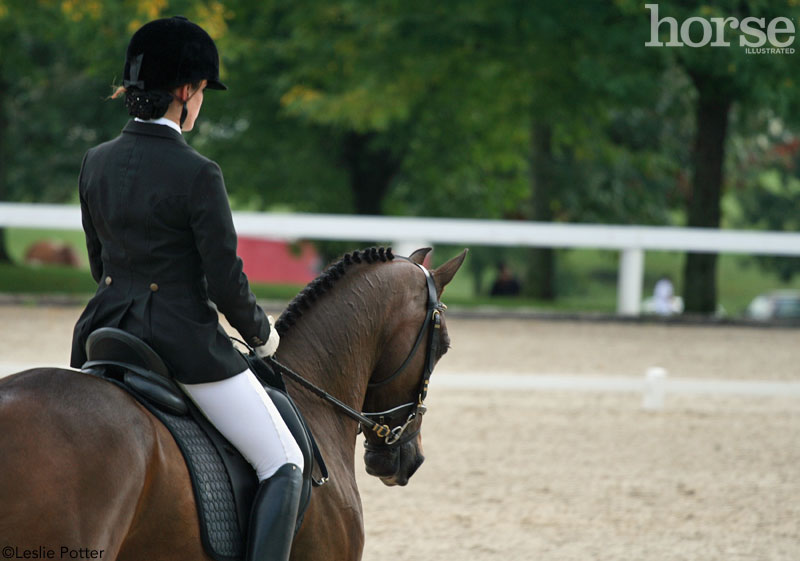 There is more to dressage competition than the ability to create a good pattern. Correct basics, a proper seat and a display of good horsemanship can go far to impress a judge. However, you can also leave a bad impression, perhaps even impacting your scores by accidentally (or accidentally on purpose) irritating a judge. There are some common pet peeves in the judges' box, and three top judges tell us theirs.
Maryal Barnett FEI 'C' and USEF 'S' judge

"Riders that give the horse conflicting aids and then are unhappy with their horses because of a poor performance really bother me. When I see a rider pulling on the reins and kicking or hitting the horse with a whip or digging with the spurs, I feel very sorry for the poor horse. What also gets my goat is when riders are not prepared to ride at the level they have chosen to compete. I would love to see riders prepare their horses for the next movement by riding correct corners, and using smooth, effective half halts for transitions.

"All of these things will lower each movement score as well as the collectives at the end of the test. Now that the rider score has a co-efficient of 3, how the rider influences the horse is going to be more important in the outcome of class placement."
Lois Yukins FEI "I" and USEF 'S' judge

"Riders should remember that dressage isn't just about making a pattern. If they seem more concerned about where to go then how to get there, I get irritated. There is also a trend for fancy, gaudy things like bright saddle pads, spur charms and decorative browbands. I think money is best spent on classical styles or purchasing good riding instruction. The salute is also important because you are addressing the judge for the first time. Learn how to do it correctly and keep the inventive or dramatic salutes out. They're never impressive. I also wish that riders who can't sit the trot would rise when there is the option.
"It's fairly easy to see an inexperienced rider and to understand basic mistakes. My biggest peeve is seeing trainers make big, ugly moves that destroy the horse's confidence and produce a picture that less experienced riders emulate. When I see a rider trying to out-muscle the horse, and the horse having to give in, I get very angry."

Janet Brown-Foy FEI 'I' and USEF 'S' judge

"Riders who create inaccurate figures because they haven't bothered to ride in a real arena are top of the list for me. Sometimes riders will appear to have never seen the test before and rely on the reader, in hopes they can just figure it out. And when they go off course, they think I will be amused.
"Appearance is also a big issue for me. Any rider can look tidy and clean. I think everyone should try to look their best and groom and braid their horses and clean their tack. It's a matter of respect and also how they feel about themselves and their performance.

"There's nothing in my methodology that gives me room to deduct points for lack of common sense. But use of voice is covered by a rule, so I may deduct points if I hear it. Swearing really makes me deduct points! Too much use of the whip will affect the rider score. If it is on the verge of cruelty, I may even give a warning."
Liked this article? Here are more insights from the judges:

Score More

Insider Tips from a Horse Show Judge