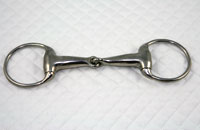 Eggbutt Snaffle: This oddly named snaffle does indeed resemble the oval shape of an egg. Unlike a loose ring snaffle, the eggbutt will not rotate in a horse's mouth; it's fixed. Though mouthpieces may vary, the eggbutt is generally viewed as a mild to moderate snaffle.
Several decades ago, the eggbutt was the bit of choice for show hunters.
Horses with thin skin or sensitive mouths respond well to eggbutts, as the bit rings will not pinch or abrade the lips or corners of the mouth.
The eggbutt's oval shape aids somewhat in turning a horse, though not nearly to the effect of a full-cheek or D-ring.
Next Bit >>
Back to HorseChannel's Online Bit Guide