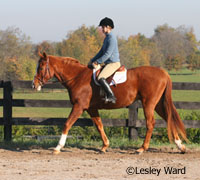 In areas of the country where there are distinct seasons, fall seems to be everyone's favorite time to ride. The air is cool and crisp, any remaining insects are largely inactive, footing is firm, and the countryside is awash with vibrant colors. Because trail use increases and campsite permits are harder to get, horseback riders need to plan ahead if they want to ensure their favorite trailer site or take that last camping trip before outdoor temperatures dip.
Riders also have to be aware that several hunting seasons begin during the fall, so there may be hunters and dogs competing for trail use. State park personnel often re-stock game birds prior to the hunting season, so riders should be prepared to encounter an occasional explosion of "flying objects" alongside the trail.
For increased safety in areas that are radiant with color, riders should always wear bright clothing – blaze orange is a traditional outdoor-clothing "warning" color. Reflective tack is also available to differentiate your horse from a deer, but you could be lit up like "The Electric Horseman" and still need to add a bell to your saddle. (In 2002, an elderly Minnesota hunter shot a white horse being ridden by a 12-year old girl thinking it was a deer!)
Because cool fall temperatures are invigorating for horses, many exhibit frisky behavior at the start of a ride. Longeing can take the edge off many, while others just need to get under way to curb their exuberance.
Another major issue for riders in the fall is whether to blanket their horses, and when. The answer depends upon climate, riding schedule, their horses' ability to grow a sufficient coat for the worst weather conditions, and age-related "thermostat problems." Many people lightly blanket their horses when overnight temperatures dip to 40°F and either add a blanket or toss on a heavier one when very cold weather sets in.
Precautions should be taken for all horses coming into the barn after a cold-weather ride, but especially those that have already grown a winter coat. If they have worked up a sweat, they should be walked during the last part of the ride, and again in-hand back at the barn until their coats are dry. Similarly, horses trailered to a ride destination should never be loaded for the return home while still wet.
For those horses that are blanketed most of the time, riders can put a quarter-blanket beneath the saddle pad to help wick sweat during a ride and prevent chill. Quarter blankets cover the hindquarters, are often made of fleece or wool, and have tail straps to keep them in place.
Another precautionary measure for the fall season is to be sure pastures are free of piles of dried-up red oak leaves and acorns. To their gastric distress, some horses wolf them down like popcorn; an overload can be fatal.
While riding on trails in the midst of the colorful landscape is more riveting than tackling the mundane duties of horse ownership, fall is also the season for horse owners to administer bi-annual vaccinations, take inventory of hay supplies for the winter, and perform the most important pasture maintenance tasks.