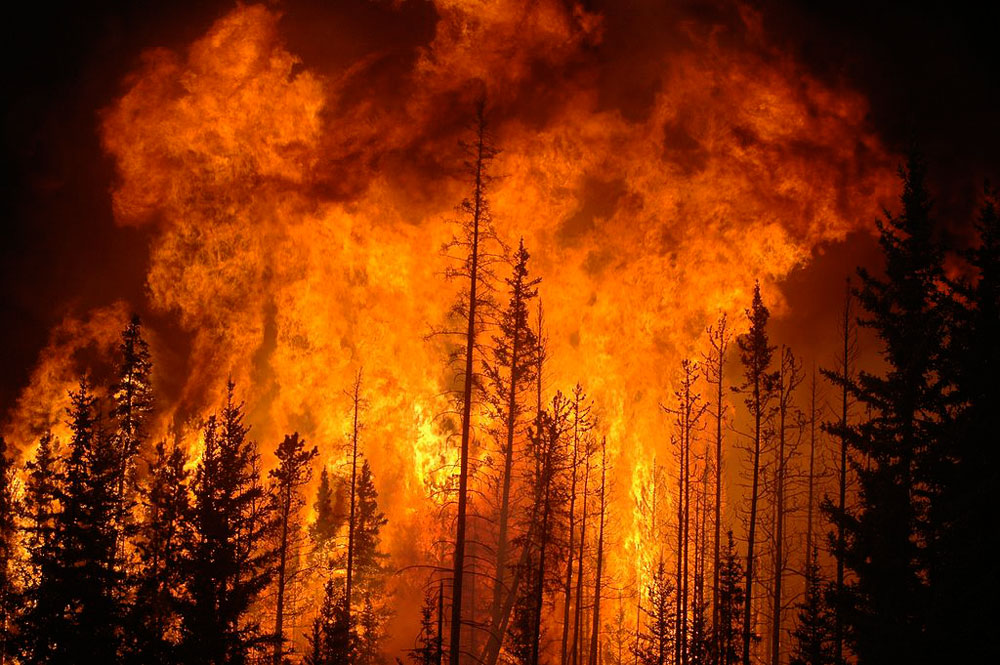 Photo
by Cameron Strandberg from Rocky Mountain House, Alberta, Canada (DSC_7139)
CC BY 2.0
, via Wikimedia Commons
Kathy Voyer wasn't having a good day. The evening of Dec. 2, 2006, was unseasonably windy and she was hobbling around her small horse ranch where she lived alone, tending to her three Arabian mares. Recovering from recent back surgery, she was barely able to complete her barn chores. As if that wasn't challenging enough, nearby electrical wires arced in the dry wind and temporarily shut off the power to her property in Norco, Calif.
"The power returned pretty quickly," the diminutive horsewoman recalls. "But I could never have predicted that a fire would come raging down the hill soon after, right up to my fence line."
Within minutes her beloved mares were showered with hot ashes blowing into their paddocks. Without anyone on hand to help her, Voyer grabbed a hose and began spraying water into the air.
"Yes, I know it sounds futile, but while I waited for someone to come help me, what else could I do? I put myself and a garden hose between my mares and a cloud of blazing embers," Voyer recalls.
Realizing she wasn't making much headway and fearful that her mares would be burned, she haltered the horses and led them out of their paddocks into an open area of her property. And there she stood, her three mares huddled around her as she leaned on them for support.
"The smoke was horrible," Voyer says, adding that her home on Walking Horse Lane was surrounded by other ranchettes. "Thankfully a couple of neighbors I really didn't even know ran over and asked me if I needed help. They weren't part of any official evacuation committee. They were just fellow horse people who came to my rescue."
Voyer handed over the lead ropes and the good Samaritans led her mares to a private stable down the hill at the far end of the street. Once at the protected site, the mares were placed in a small riding arena while firefighters battled the blaze. Although no homes, humans or horses were lost in the surprise wildfire, Voyer learned a tough lesson.
"It's best to have an evacuation plan beforehand," she cautions. "Once a wildfire strikes, it's too late to suddenly devise a strategy, especially if you're like me and live alone. Or what if you just happen to be by yourself right then? You need to have someone you can call in an emergency."
Other tips from equine safety experts include writing your cell phone number on your horse's front hoof with a black permanent marker. Writing it on duct tape that's stuck on a halter may seem like a good idea, but when horses are being quickly evacuated, a halter is a prized possession; it may be used on multiple horses throughout an emergency.
Next, if you're caught in a wildfire situation, remove fly masks, scrim sheets and nylon halters from your horses. Why? Heat from the fire can melt those materials and burn them into your horse's skin. Leather halters or makeshift ones made from cotton rope work best. Finally, network within your horsekeeping community. Ensure that your horses and those of your neighbors will have a safe haven if disaster strikes.
Liked this article? Here are more emergency preparedness resources:
Download an Emergency Info Sign for Your Barn
Horse Emergency Info