If you love horses and love to travel, there's no better way to see a country than from the back of its native horse. Riding Norwegian Fjord Horses through the lush and mountainous fjords of western Norway was a once-in-a-lifetime experience that I will never forget.
A Warm Welcome
On my flight to the Norwegian city of Bergen, I flew over the Jostedal Glacier, the largest glacier on the European continent. Even more beautiful than the glacier itself was the scenery it created—huge waterfalls cascading from every mountaintop into picturesque green valleys with deep lakes, bountiful farmland, wildflowers and colorful farmhouses. This area is known as Nordfjord, "The Mecca of the Fjord Horse." Here, you'll find riding opportunities to suit every equestrian, as well as plenty of other outdoor activities for the entire family.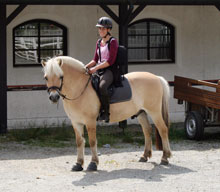 Norsk Fjordhestgard
My first riding adventure brought me to the Norsk Fjordhestgard riding center at Breim in the Gloppen municipality, situated in one of the beautiful valleys I'd flown over on my way to Nordfjord. The facility is run by the local Fjord Horse Association and riding club, and houses approximately 25 horses, most of which are native Fjord Horses.
Historically, local farmers would move their livestock to higher ground for the summer and live there in small, colorful cabins. I was excited to explore the countryside aboard a Fjord Horse and visit the summer cabins for a true Norwegian experience.
My excursion involved riding over a mountain to the cabin where I would stay for the night. I've trekked over many mountains and imagined this one would have winding trails and tall pine trees. However, I was in for a change of scenery.
We started out slow, riding past farmlands and up pasture hills. When we got to the mountain, I was surprised to see that there were only large boulders and shrubs, which I now realize are typical of the higher-elevation glacier areas. "We're riding up that?" I asked my guide. Not only was there no trail, it was incredibly steep. It reminded me of the mountain goat exhibit at the San Diego Wild Animal Park, where mountain goats perch high on sheer, rocky cliffs.
My guide assured me that Fjord Horses are very sure-footed; this is their natural habitat. Just give your horse his head and let him pick his way up, she said. My gelding was in his teens and had done this ride many times, so I put my trust in him and leaned forward in the dressage saddle to grab some mane with one hand. Sure enough, he carefully picked his way from boulder to boulder, putting any man-made all-terrain vehicle to shame.
At the top of our first ascent, we rested in a meadow by some empty mountaintop cabins. The horses replenished themselves with grass and some grain we'd packed, while we ate sandwiches and refilled our water from the stream. It was true glacier water bottled right at the source.
The non-rocky areas tended to be soft from all the melting glacier snow, but our mounts proved to be just as sure-footed in the mud and water as they were on the rocks. The higher we climbed, the more beautiful the views became. I have visited a dozen countries and honestly have never seen views that beautiful in all my life. Most of the time, you could look as far as the eye could see over valleys and mountaintops in all directions and not see one house, one power line, one sign of humans anywhere. A waterfall was almost always in sight, and when you couldn't see one, you could hear it—nature's music.
We rode for eight hours, and our Fjords were always willing to pick up a trot when asked, despite all the mountains they'd climbed, making me just as enamored of their endurance as I was of their sure-footedness. We arrived at the cabin after 10 p.m., but it was still light out thanks to Norway's summer sun, known as the Midnight Sun.
My first day riding in Norway and my first experience riding a Fjord Horse had certainly left me with a great impression. My hosts were all gracious, and since Norwegians learn English in school, there was no language barrier.
Out in the country, staying in quaint cabins and eating the local cuisine (fresh fish and local meats and veggies), I didn't feel at all like an outsider and couldn't wait to soak up more of the beautiful scenery in the days to come.
Nedrebergtunet
Situated on a steep hill above the town of Stryn sits a small guest farm with an amazing view of the mountains and fjord—a long, narrow strip of ocean bordered by steep cliffs—and yes, a waterfall. Nedrebergtunet is currently owned by Amund and Torild Nedreberg and has been in their family since 1400. The farmhouses date back to the 17th and 18th centuries and have been modernized but still maintain their history. The larger of the farmhouses is three stories with several bedrooms—large enough to comfortably fit a large family or a group of friends.
Fjord History and Characteristics
The ancestor of the Fjord Horse is most likely the Przewalski Horse from the Mid-Asian steppes. The modern Fjord is the result of more than 2,000 years of domestication in western Norway. Due to the seclusion offered by the mountainous terrain, the breed has stayed pure with its characteristic dark-colored stripe along the mane, the dorsal stripe (eel) along the back, and "zebra" stripes on the legs.
Vikings used the Fjord Horse for transportation and in battle. In the late 1800s and early 1900s, Fjord Horses were bred to pull heavy agricultural machines. Until the 1980s, the Norwegian Armed Forces also used the Fjord Horse.
Fjord Horses are known for their versatility and stamina. They are characteristically courageous, trusting, easy to handle, willing to work and energetic. Today, Fjord Horses are being bred as sport horses for everything from jumping to dressage. However, competitive driving and trail riding continue to be their most popular uses.
In a nod to their Viking heritage, the Fjord Horse's mane is kept "erected" to display the neck. Four varieties of dun color are accepted: brown, red, pale (ulsdun), or gold (yellow) dun. Fjord Horses may also be gray. They vary in height from 13.5 to nearly 15 hands, with the average being closer to 14 to 14.2 hands.
To find out about Fjord Horses in the United States, visit www.nfhr.com.
Breeding and owning Fjord Horses is a family tradition, and Amund offers a wealth of information on the breed's bloodlines and history. Near their two rental houses, the Nedrebergs maintain a barn with several Fjord Horses. Although the small number of horses means large group rides can't be accommodated, guests can take lessons in the ring on the property or go on day rides in the nearby mountains. I went on a three-hour ride aboard a middle-aged mare, while the riding instructor rode the mare's daughter. Both horses were very well-behaved, and the trails were more like those I'm familiar with here in the States. The wide mountain roads and winding trails surrounded by towering trees were a relaxing way to enjoy the morning, and the views were spectacular. Because the trails are less strenuous, even beginners can take trail rides at Nedrebergtunet.
In addition to riding, guests at Nedrebergtunet can take courses in traditional baking, cooking and brewing, and join knitting groups. The surrounding area also offers a plethora of recreational activities, such as hiking, fishing, water sports and trips to the nearby glacier.
Norwegian Fjord Horse Centre
Established in 1989, the Norsk Fjordhestsenter, or the Norwegian Fjord Horse Centre, which is the national center for the Fjord Horse in Norway, is used for breeding, training and education, and also houses the offices of Fjord Horse International, an organization that promotes the breeding and use of Fjords around the world. The center includes a state-of-the-art breeding and riding facility.
Above the center, a row of cabins, complete with grassy roofs and views of Fjord Horses grazing, are available to rent. Guests can take riding lessons or go on trail rides.
On a day ride into the local mountains, I rode one of the center's school horses, who once again proved to be a steady mount. The trails were steep in places, but there were also areas to enjoy a short canter.
All the Fjord Horses I rode during my riding holiday were well-behaved, sure-footed, hard-working and most of all, adorable with their distinctive coloring and stand-up manes. I also enjoyed seeing the countryside, staying locally in cabins and visiting with my Norwegian guides while taking in some of the most spectacular scenery.
Micaela Myers is the author of The Horse Illustrated Guide to Trail Riding (BowTie Press) and KNACK Leg and Hoof Care for Horses.
---
This article originally appeared in the January 2010 issue of Horse Illustrated. Click here to subscribe.