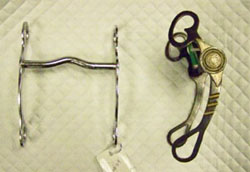 Grazing bit: One of the most popular western curb bits, the grazing bit features fixed shanks that connect to a mouthpiece that usually has a mild or low port. The shanks typically bend back, often to a noticeable extent. This design modifies the leverage action so the horse tends to travel with its nose in front of the vertical.
Reining and cutting horses often compete in some style of grazing bit.
This is also a popular bit for trail horses.
Though its name refers to the belief that the bit's curved shanks allow a horse to graze, a horse should not eat while wearing a bridle.
Next bit >>
Back to HorseChannel's Online Bit Guide.