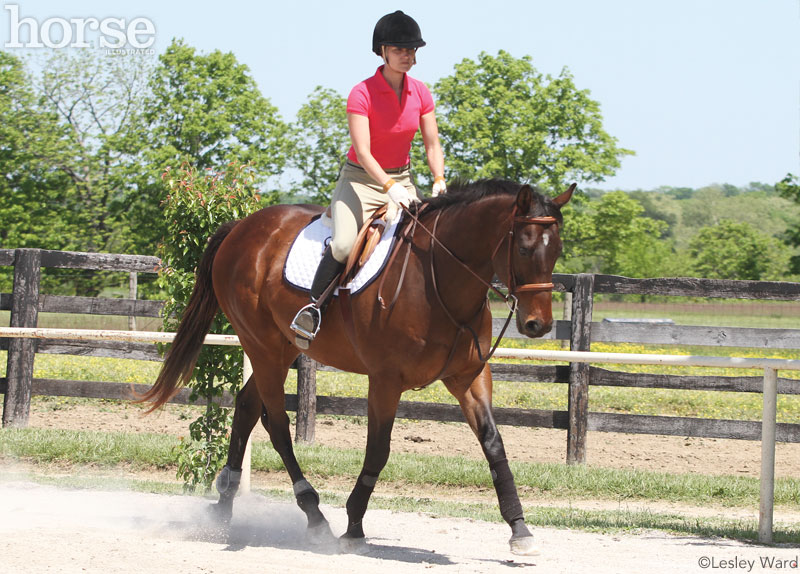 Perry Wood, British clinician and author of Real Riding, How to Ride in Harmony with Your Horse, offers these exercises to teach a feel for the half-halt.
Wood's unique training style makes hard-to-grasp riding concepts easy to understand. The half-halt certainly falls under the category of hard-to-grasp, but with Perry's help, it doesn't have to be that way.
Trot in a dressage arena and ask for a transition to the walk at A, E, C and B, and then move straight back into the trot after a couple of walk strides. The horse will quickly understand the pattern and become responsive to your aids. After a few circuits around the arena, start to ask for the downward transition at the same letters, but instead of coming down to the walk, at the last moment, change your mind and ask the horse to remain in trot.
"You'll find the horse is waiting for you to ask for the walk at the letter and you'll find you can give the tiniest suggestion of a half-halt. The horse will rebalance himself and you can carry on. If you do that a couple of times around, you'll find the horse gets really responsive to the half-halt and becomes increasingly balanced."
Help! Why Isn't it Working?
So what happens when your horse keeps going and going despite your half-halts? In fact, your horse seems to be getting faster. Don't despair. Loads of people have had this experience, including Wood. "If things are so out of hand and your horse is just running off, put him on a (large) figure eight," he says. "He'll soon realize that his legs are putting in a lot of effort and he's getting nowhere fast! He may soon decide that slowing down was a good idea after all."
You can also ask the horse to halt completely and stand for two minutes. Start again, and the next time you stop give the horse another two-minute rest. Then trot another 40 yards and give another two-minute rest. "Very soon, your horse will begin looking for the halt," Wood explains. "And then you can think about evolving that into a half-halt. So when your horse begins to quicken, think that you want to stop completely. As you feel him shift downward, change your mind and move on again," Wood instructs.
Keep repeating for as long as you need to until he's moving in your tempo and not his own. "You've got to look at this from the horse's point of view," Wood says. "What's in it for him? If he thinks he's going to get a rest, then he's going to give to your half-halt!" If you do a mixture of these two exercises you'll find your horse transforming very quickly.