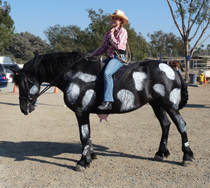 One large public stable discovered how to combine Halloween fun with horses. Volunteers organized a parade for horses in costume and their riders and handlers. The colorful group was then sent trick-or-treating up and down the aisles of stalls and corrals. The grand finale was a judged costume class in the stable's arena. Then everyone dished up a plate of food from a buffet of potluck offerings. That's how Halloween was celebrated on a recent Saturday afternoon at Huntington Central Park Equestrian Center in Orange County, California.
"We have 420 horses boarded here," explained Corinne Dekker, a longtime horse owner and boarder at the stable. "Even though 175 are in training in various disciplines, this is a way to bring everyone together."
It was hard to tell which riders and handlers were devotees of dressage, hunters, saddle seat, driving or western performance. They—and their horses—all arrived dressed as someone quite unlike their true identities. One black Friesian, for example, trick-or-treated incognito as a Cow Horse.
"The parade went up and down every one of the aisles," Dekker said, "with volunteers like me making their stalls Designated Candy Stops."
She handed out goodies from the paddock occupied by her warmblood gelding, Oliver. Dekker noted that the party goers included kids on foot from the surrounding neighborhood. Since it was held during daytime hours, those non-horsey kids got a chance to pet a lot of docile equines, which helped encourage a good relationship with the local community. Indeed, everyone seemed to have a good time.
If you'd like to organize a costumed trick-or-treat parade at your stable next year, here are a few suggestions. Begin by posting fliers at the barn several weeks ahead of time. That gives everyone a chance to plan their costumes. Next, ask the barn manager or stable owner to mail out notices to boarders at their home address. That ensures that everyone receives a notice so that no one feels left out. Then solicit freebie donations for the prizes from a nearby tack store. Or awards could be Halloween themed knick knacks from a discount store, purchased by pooling spare change. After all, Halloween on horseback is not about the prizes. The enjoyment comes from dressing up a favorite horse and gathering up a bunch of yummy treats.
"This is the fifth year we've done it," Dekker added, "and it's always a lot of fun."