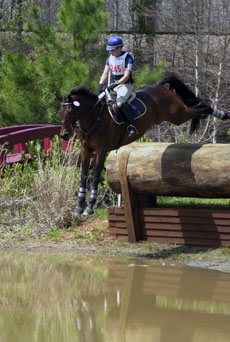 When Hannah Burnett and her horse, Keep the Faith, contest the Rolex Kentucky Three-Day Event, they won't be accompanied by the grooms and expensive equipment most competitors bring to this rarified, world-class competition.
But if hard work, dedication, and commitment held a dollar value, 20-year-old Burnett, riding in her first-ever Rolex, would be the richest competitor of all. The special partnership she's forged over the past six years with her 16-year-old
Thoroughbred
partner (whom she calls Ben) have already enabled this up-and-coming young rider to defy the odds and reach for the stars, despite her lack of financial backing.
Facing Rolex, arguably the country's toughest equestrian event, as a rookie is no small challenge. But Burnett and Ben have already proven they can hold their own in top-caliber competition. Based in Ocala, Fla., for winter training this year, the pair placed 10th at the prestigious Red Hills CIC*** in March, a world-cup qualifier. Last fall, the duo finished 20th in the United States Equestrian Team's fall eventing championship, the Fair Hill (MD) CCI***. (She currently holds her B rating and will seek her "A" after Rolex.)
Riding at Rolex has been a lifelong dream for Burnett, who grew up in Finchville, Ky., just an hour from the Kentucky Horse Park. She was the only one of her four siblings to inherit the horse bug from her mother, Sue, who runs an active lesson program at the family's Leap of Faith Farm.
Burnett grew up riding ponies and has been a loyal member of the Louisville, Ky., Long Run Pony Club since she was 7. There, she was introduced to many local instructors who launched her eventing career. She recalls learning the ropes by falling off "lots of naughty ponies," before achieving novice-level success by age 11 with one of her mom's school horses. At 14, Burnett reached the sport's Preliminary Level aboard Codiak Moment (Cody), a 14.2-hand pony who also competed in the pony jumper division at horse shows.
In the summer of 2001, while watching the pony finals in Conn., Burnett and her mom stopped to look at some horses for sale in nearby New York; among them was a magnificent 16.2 hand Thoroughbred, Ben. "I had never seen a horse that nice," Burnett remembers. "I took one look at him and I just knew, I had to get him somehow."
But Ben's price was beyond the family's reach. "I begged the owner not to sell him," Burnett recalls. "I had to come up with the money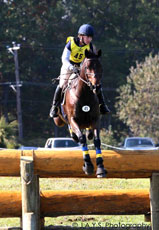 somehow."
One week later, an answer appeared. Burnett and Cody had just won the pony jumper championship at a big show and, although the ponly had never been offered for sale, a buyer made an offer. Cody's sale allowed Ben's purchase.
When Burnett brought her dream horse home, she knew she had a lot to learn before they began competing. "I had to get used to Ben's big stride and figure out how to ride him," Burnett says. "I couldn't even sit his trot at first."
When the pair finally hit started competing, they immediately found success. In 2003, Burnett and Ben won three Preliminary-Level horse trials in a row and placed sixth at their first three-day event in Lexington, Va.
The next year, Burnett made a valiant attempt to attend college and, as she recalls, "try to be a normal person." She lasted only one semester at the University of Kentucky before she realized, "I can't do this; I have to ride."
But Burnett would have to earn her way. So, she became a working student for Kentucky-based eventer Cathy Weischoff, following her to Florida for winter training. In 2005 Burnett and Ben reached the sport's Advanced Level and competed successfully in the 2006 national young rider's championships in Lexington, Va.
That year, Burnett relocated to The Plains, Va., to work for her current instructors, renowned eventers Karen and David O'Connor, and their assistant trainer, Clark Montgomery. She earned extra money by training some off-the-track Thoroughbred prospects for resale at her parent's farm.
"I think I have a better partnership with Ben because I work with him all the time," Burnett explains. "I appreciate what I have so much more because I've had to work for it."
Burnett credits her family, too, for their unflagging support. "My parents have bent over backwards for me all these years," she says. "My family has sacrificed their time and energy, going to horse shows instead of baseball and basketball games."
Much of Burnett's inspired determination, of course, stems from the love and steadfast faith she feels for her horse. "Ben tries his heart out for me," she explains. "I can mess up and he'll get me out of any situation. He would jump off a cliff for me."
And through the unsolicited help of friends and fans, Burnett and Ben will at least arrive at Rolex in style. A recent story in the Louisville Courier-Journal about Burnett's Rolex quest noted that her dilapidated trailer could barely make the trek to Lexington. A barrage of e-mails quickly followed, resulting in an offer to refurbish the Burnett's rig.
"People I didn't even know have e-mailed and offered to help," Burnett explains. "It's just been amazing."
So while the vagaries of sport make the Rolex outcome anyone's guess, you can bet on one thing: The hometown crowd will be cheering for Burnett and Ben on cross-country day, loud and clear.