Football players wear them. Same for major league baseball players awaiting a pitch at home plate. Even bicyclists and many professional skiers consider them part of their standard attire. So why do a large percentage of equestrians continue to shun protective headgear? After all, riding a horse is also a risk-taking activity. Yet, despite statistics that prove safety helmets can protect a rider from serious head injuries, the same three reasons continually crop up as excuses for not donning a helmet. Are they really valid arguments for not wearing one? You decide.
Argument No.1
Only top-level competitors need to wear a helmet. There's no need to wear one for leisurely activities such as trail riding.
Counterpoint: There's no denying that safety helmets are warranted when a rider is engaging in high risk equestrian sports such as show jumping. The United States Equestrian Federation (USEF), which is the national governing body for horse show events in America, found a direct correlation between riders who participated in classes over jumps and head injuries. In 2003, hunter and jumper competitors accounted for more than 55 percent of head injuries reported at sanctioned shows, while eventers accounted for 25 percent. The remaining percentage of head injuries were rather equally distributed among all other riding disciplines. In response, the USEF has tightened its requirement for safety helmets. As of Dec. 1, 2005, all riders—including professionals and amateur adults—must wear a helmet that meets ASTM/SEI safety standards at all USEF sanctioned shows in any class that involves jumping and at any time while jumping on the showgrounds.
But that doesn't mean that safety helmets are only for riders who jump. Sometimes the most dangerous equestrian activity is the one that seems to be the most benign, such as ambling down the trail on a trusted, placid horse.
Dru Malavase, co-chairman and the original chairman of the Equestrian Headgear subcommittee for the American Society for Testing and Materials (ASTM), remarks that many head injuries occur just when things seem safest. "Most of us walk a lot when we ride recreationally, enjoying the weather, nature, chatting with other riders. And most horses seem to behave better when their attention is engaged or when they are listening to their riders' requests. The people showing up in emergency rooms," she offers, referring to statistics compiled as public record, "are far and away casual recreational riders."
Furthermore, a trio of studies conducted in Great Britain that are considered hallmarks in establishing guidelines for riding safety showed that when riding is examined by activity, it's simple pleasure riding, not show jumping, that produces the most riding-related injuries. Moseying down a trail may seem like a risk-free adventure, but it is not.
Argument Number 2
It's fine to endorse helmets for young riders, but an adult is capable of evaluating risk factors and making a personal choice not to wear one.
Counterpoint: Problem is, when an adult rider chooses to embrace freedom of choice and forgo a helmet, and then suffers a head injury, he or she isn't the only one who suffers the aftereffects. According to statistics provided by the AMEA-SRF, the survivor of a head injury may be faced with long-term disabilities, such as epilepsy, personality changes and intellectual or memory impairment. All of these affect interpersonal relationships. Then there are the medical costs. Hospitalization for a severe head injury runs about $25,000 a day, and extended care over a lifetime can amount to over $3 million. That's a heavy burden to place on family, friends and society.
Ironically, it's the independent-minded adults who are logging the most miles in emergency rooms with their riding-related head injuries. Kids, on the other hand, have become indoctrinated to helmet safety because they're often required to wear them in competitive events, and they wear them elsewhere: on their bicycles, on their skateboards and even in martial arts training. Do these younger riders know something?
"The federal figures on equestrian injuries coming into emergency rooms, which amount to about 75,000 a year, show that young riders, who are generally the highest category for accident-related injuries, are no longer the most injured," Malavese explains. "Adults ages 25 to 44 now have that honor." Malavese also points out that, according to the Centers for Disease Control records, the majority of that group is female.
One female in that age group who has bucked tradition and worn a safety helmet in a decidedly non-helmet friendly atmosphere is women's professional barrel racer Delores Toole. In 2004 she raised some eyebrows and garnered a few snide comments when she wore a safety helmet during her barrel runs at the National Finals Rodeo. She was the first competitor to do so in the event's 45-year history.

"It was seen by a lot of the girls as sort of a faux pas," Toole recalls. She says that comes mostly from barrel racing being a part of the western riding culture where cowboy hats are customary attire, not safety helmets. According to Toole, "I heard some of the girls saying they wouldn't wear a helmet because they wouldn't look pretty enough. They like to wear the sparkly clothes, and they're more concerned with how they look to the crowd. Me? I'm more concerned with putting in a good run."
That's an admirable sentiment, especially in barrel racing, where the Women's Professional Rodeo Association required western attire—including a cowboy hat—for all events until they felt the pressure from safety advocates. Now, competitors are permitted to wear a helmet if they choose.
However, "I don't see much change," Toole laments. "There have been some bad accidents lately," she offers, reciting two recent severe head injuries she knows of related to barrel racing, "and the safety helmets are out there, but not a lot of barrel racers are wearing them."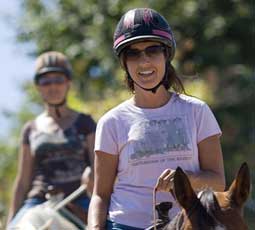 Argument Number 3
Safety helmets are too hot, too heavy, too clunky or too "English."
Counterpoint: Thanks to innovations in designs and materials, today's version of the equestrian safety helmet has solved fashion and fit problems of the past. With a wide variety of styles and even color choices on the market, riders can not only be safer, they can also look sporty and trendy. In other words, the modern safety helmet is not the one you might've worn as a kid. That bubble head look? Gone. The chintzy lining that accumulated sweat, grime and dust? It's been replaced with removable, washable inserts. Remember the snap-out harnesses that chafed facial skin and turned yellow with age? Obsolete. Modern options include baby soft leather and faux suede harnesses. Plus, the harnesses of all ASTM/SEI approved helmets are now permanently attached to the helmet for safety's sake, and a snap-out harness is a sure sign that a helmet is not a true safety helmet, but an "item of apparel only."
Andres Lendoiro, vice-president of Devon-Aire, a company manufacturing contemporary, affordable equestrian wear, including the Aegis line of safety helmets, remarks that newer models of helmets are much more inviting than those of yesteryear. One of the reasons? Plastic.
"When engineered properly, these materials have enormous shock-absorbing capabilities," Andres says. "Plus it's lightweight, which greatly reduces the total weight of the helmet. It's not that bulky, hot, heavy helmet that made you sweat before."
Devon-Aire has responded to complaints from retailers and consumers, who were frustrated with the plethora of sizes in helmets. Maintaining a stock of helmets gobbled up valuable shelf space. And shoppers saw the search for a snug-but-comfy helmet as a marathon event, where several had to be tried on before finding that perfect fit. That led to the creation of an adjustable system in some helmet designs that allows the wearer to create a customized fit, reducing the need to wade through a sea of possible sizes.
"Now our helmets come in small/medium and large/extra large," Andres says. "Rather than wedging padding into a helmet's headband to get a good fit, the wearer can just dial in the fit and they're good to go. It makes helmet shopping easier for everyone."
Andres reminds riders that helmets, whether just a schooling helmet or the trendy Euro- styled headgear, should be stored properly. "Heat causes atrophy of the materials," he cautions. "They lose their ability to provide optimum shock absorption. So don't store a helmet in the trunk of the car, especially in hot weather."
Age also degrades the functionality of the material in a helmet. Because of that, it's recommended that helmets are replaced every five years. Plucking that dusty old helmet off the shelf of a tack room may give you a false sense of security. It's better to buy an updated helmet, store it properly away from direct sunlight and intense heat, and replace it as recommended. After all, there are a lot of helmets out there. But there's only one you.
Further Reading
How to properly fit an equestrian helmet
Cindy Hale is an author and regular contributor to Horse Illustrated magazine.