1985
The U.S. Postal Service issued four commemorative stamps
depicting American horse breeds. The featured breeds were the Morgan, American
Saddlebred, Quarter Horse and Appaloosa. The 22-cent stamps were the result of
efforts by the American Saddlebred Horse Association and the American Horse
Council.


Western fashion, 80s style. Click for larger images.
In the Pages of Horse Illustrated
When you think of 80s fashion, you probably think of
leggings, oversized tunics, high-waisted jeans and leg warmers. You probably
don't think about prairie dresses and ruffled blouses, but we sure did. "You'll
be the hit of any party when you step out in these snazzy new western wear
fashions," we promised readers. We probably meant to say, "Costume party."
Sorry for the confusion.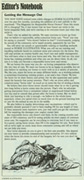 Click to read the May 1985 editor's note
This year,
Horse Illustrated
added the tagline, "The
Magazine for Responsible Horse Owners" to our cover to describe the niche we'd
found for our little magazine. It fit pretty well, so we kept it on the cover
for the next 24 years. Click on the image to the right to read the note from
then-editor Jill-Marie Jones explaining why we chose that tagline in the May
1985 issue. Everything she wrote still holds true for us today.
Go back to the Horse Illustrated 35th Anniversary main page.