1993
In September, we finally ended the pen pal program we had
inexplicably been running in the pages of the magazine since the 70s. Based on
several reader letters printed in the "Mailbag," the problem wasn't that parents were increasingly concerned about their kids'
addresses being printed, but that participants were getting literally
hundreds of letters in response to their pen pal listings and couldn't possibly
respond to them all without signing over their life savings to the USPS for
stamps.

Chat rooms and message boards were readily available soon
after, so it's just as well that we ended it when we did.

In November, Horse Illustrated reported that a vet in
California was the first in the area to implant microchips in horses to help
provide identifications in case of theft. Microchips had been used in pets
since the 1980s, and by the BLM to track wild horses. Dr. Douglas Novick, the
groundbreaking equine vet, said, "Three years from now the ID microchip will be
the standard for horse identification." Although they still aren't as popular
with horse owners as they are with cat and dog owners, microchips are
considered a good protection in case of a horse escaping or getting lost after
a natural disaster.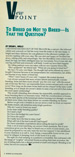 Click to read Susan Wells' 1993 column on overbreeding.
In the Pages of Horse Illustrated
In March of 1993, then-editor Susan L. Wells wrote an
editor's note on the topic of overbreeding. This was a topic addressed several
times by previous editor Jill-Marie Jones and in the pages of
Horse Illustrated
and other equestrian publications since. Do you really need to breed your mare? Probably not.
Click the thumbnail image to the left to read the 1993 column, which is still
very relevant in today's horse industry.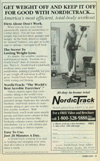 Click for larger image.
Here are some facts about the 1990s that you may not know.
1. Everyone owned a NordicTrack. 2. When people in the early 1990s worked out,
they universally did so in shiny spandex outfits. 3. NordicTracks were used by
everyone who owned them for exactly a week and a half, then were primarily a
place to put your clean laundry while saying, "I'll put it away later," and
going off to catch the latest episode of Murphy Brown.
Maybe that's not all entirely true, but what is true
is that it was hard to escape the advertising blitz created by the NordicTrack
people. Even if you didn't watch TV, you'd flip open your favorite horse
magazine and see an ad like the one to the right. Perhaps they recognized that equestrians
are, in fact, athletes who need to cross-train. Or it was just an advertising
blitz. We may never know for sure
Go back to the Horse Illustrated 35th Anniversary main page.