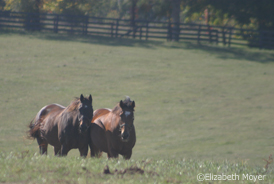 The question of where all of the unwanted horses will end up looms greatly over the heads of horse lovers and equine industry professionals and leaders. However, horse rescues across the country are doing everything they can to offer these animals a safe haven. In April 2007, the non-profit Kentucky Equine Humane Center (KyEHC) in Nicholasville, Ky., opened its gates to Kentucky's equines and strives to find a home for every horse it takes in.
The KyEHC was conceptualized in 2006 by a group of equine community members who were concerned about the growing number of unwanted horses. They agreed that there was a need for a rescue similar to those that care for cats and dogs: one with an open-door policy that takes in all horses, regardless of breed, with the goal of finding them new homes.
The KyEHC has several programs in place to promote horses that are available for adoption. Because of its proximity to Kentucky's major Thoroughbred racetracks, the center receives many Thoroughbreds off the track.
"We now have stalls at all of the Kentucky racetracks," says executive director Lori Neagle. "If people can't keep their racehorses or don't want them anymore, we have surrender stalls where they can drop [a horse] off, and our paperwork is in the racing secretary's office. We have volunteers at all of the tracks that will take care of them for us until we can get there.
The "Horse of the Week" program helps the KyEHC bring attention to what it does to help Kentucky's equines. "We put out a flyer that highlights one of our horses, and it goes out to a big mailing list of people and different breed associations, as well as one of the local TV stations here, which puts our horse of the week on their Friday noon news and their website," says Neagle. "People will pass it on to their horse friends, who pass it on to their horse friends, and it just keeps on going. The "Horse of the Week" program has helped us place a lot of horses.
"We also have the open-house adoption days once a month," Neagle continues. "We're open every third Saturday of the month, and it gives the public a chance to come out and look at the horses. At that time they can submit their application for adoption." Anyone interested in adopting a horse can also schedule an appointment to visit the farm.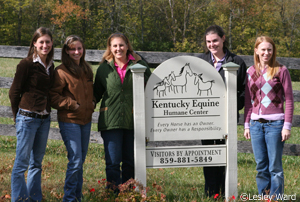 In the future, Neagle hopes to provide more educational programs for the public and a retraining program for the horses. She would also like the KyEHC to serve as a model for other states that may be interested in developing similar open-door rescues. Since 2007, the KyEHC has found homes for nearly 200 horses.
Throughout 2009, Horse Illustrated will work with the Kentucky Equine Humane Center to bring you information about what goes into running a horse rescue and how you can get involved. Look for successful adoption stories and highlights of various rescues around the country.
Keep up with KyEHC happenings at our Rescue Blog >>
Visit the KyEHC website >>