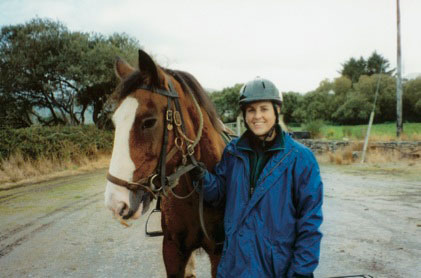 Aboard the Aer Lingus jet, en route to Ireland, I was feeling lucky. Visions of athletic Irish Thoroughbreds, sturdy Irish Draughts, cheeky Connemara ponies, plus fine hunters and sporthorses danced in my head. With the national passion the Irish have for horses, this has to be the ultimate vacation destination for equestrians–what better way to see the country than on horseback? I could hardly wait to touch down and get into the saddle.
Good Sport
Where: Clonshire Equestrian Centre

Adare, County Limerick
Clonshire Equestrian Centre is situated on an expanse of private parkland in the heart of County Limerick hunt country. The facilities include a huge cross-country course with over 50 obstacles and indoor and outdoor arenas.
We started out with a lesson in the arena, where program director Sue Foley, husband Dan, and their capable staff provide British Horse Society certified instruction to riders of all levels, from longe-line beginners to experienced equestrians.
The training vacations at Clonshire, with hunt seat or cross-country focus, feature about three to four hours of riding a day, but don't feel like you're signing on for boot camp: The program emphasizes an enjoyable riding experience tailored to achieving your individual goals. You can go boldly where you've never gone on cross-country jumps–including drops and other tricky obstacles; raise the bar on hunter/jumper fences; find the confidence to go over your first cross-rail; or get a fresh perspective on your riding position.
Once we got settled on our mounts and did a little work, we headed out for a relaxing hack. After all, this is a vacation! Time to enjoy the beautiful Irish countryside. I rarely get the opportunity to ride outside of an arena, so cantering across green hills and splashing through water on the cross-country course was great fun for me. As we rode out, through the lanes and fields, Sue guided our ride over varied terrain and obstacles, with lively canters and change of pace to keep it interesting and provide effortless learning opportunities.
Novices can really improve their confidence and skills by leaps and bounds with the quality of instruction–especially the excellent four-legged teachers. The horses, mostly Irish Sport types (a mix of Irish Draught and Thoroughbred), are willing and able, and as Sue explains, "They want to please." With around 80 horses in the stable, there is plenty of opportunity to find just the right steed for your needs.
Intrepid riders can try the foxhunting vacations offered at Clonshire, even if you've never hunted before. Polo training programs are available too.
For foxhunting or equestrian programs at Clonshire, you'll stay at the Dunraven Arms, where horses and hunting are the house specialty. The proprietors, brothers Louis and Bryan Murphy are foxhunters and horsemen themselves and cater to equestrian clientele. Established in 1792, the hotel is steeped in charm, but with full modern creature comforts you'd expect from a four-star hotel. I never felt so posh in my life as when I stepped into my room at the Dunraven. No wonder it's a favorite of HRH Princess Anne. The cozy seating area and fireplace begged me to pull off my boots and relax, while the big soaking tub, plush terry robe and heated towel rack are just what a weary rider needs to recoup.
When you're not in the saddle, wander among the colorful thatched cottages, shops and pubs in the picturesque village of Adare–including a tack shop, if your favorite idea of shopping is the same as mine.
Visit www.clonshire.com and www.dunravenhotel.com for more information.
Pure Exhilaration

Where: Dingle Horse Riding
Dingle, County Kerry
When I dismounted at Dingle Horse Riding after a mountain and beach trek, I realized I was sore, but not where you'd expect. I had just had the most exhilarating riding experience ever, and my face hurt from grinning uncontrollably the entire time.
The Dingle Peninsula features spectacular scenery, from famous mountain peaks to beautiful beach coves, ancient ruins and charming country farms, villages and pubs. We set out from the stone stable on top of the hill above the town of Dingle through a soft Irish mist. The view was impressive–green fields laid out below in a patchwork of emerald squares and stone walls, and beyond that, the sea.
At a brisk trot, we traveled in a close, single file as the horses were accustomed. The old saying, "Chestnut mare, beware" was thoroughly disproved by my mount Heather, as I was instantly taken with her effortless forward pace and sensible attitude.
Our guide, Michelle, led us straight through the middle of town, past all the pubs and shops and boldly through traffic. The horses were absolutely unconcerned, not turning a hair. The drivers too seemed used to having horses in their midst, and I was amazed to be trotting on the back of a horse past the harbor I had earlier strolled around on foot. From my vantage point on horseback, I kept an eye out for Fungie, the famous Dingle dolphin.
We hit the beach, and the horses navigated surefootedly over rocks and squelchy kelp until we arrived at a smooth stretch of sand and had a canter. After a jaunt back up through the hills, we hit another strand of beach: a smooth, empty expanse that begged for a gallop. Michelle gave the signal, and off we flew. The steel gray ocean, roiling surf and heavy sky all ran together as I set my sights between Heather's ears and grew wings, oblivious to the sand and spray that stung my face. As we pulled up easily at the end of the beach, I was absolutely on top of the world.
After the horses were put up, we headed back to town for lunch at Ashe's, one of the many traditional local pubs, for hearty seafood chowder and sandwiches and of course, a pint. Even in the wet weather, splashing about the cheerful seaside town of Dingle was great fun. The region is one of the few where Gaelic, the Irish language, is still quite common, and it's a great place to experience Irish heritage in addition to exploring the history and natural beauty of the peninsula.
Dingle Horse Riding features daily horseback adventures from one-hour mountain treks; half-day beach rides and full-day mountain/beach rides. In addition, two-day and five-day riding holidays can also be booked. Contact Dingle Horse Riding: phone +353 (066) 915-2199; www.dinglehorseriding.com. For more information about the area, also visit www.dingle-peninsula.ie.

All Terrain Experience
Killarney Reeks Trail
Killarney, County Kerry
According to Donie O'Sullivan, proprietor of Killarney Stables, it is the dream of galloping on the beach that draws people to his six-day trail ride through the highlands of Kerry, touching points of interest on the Iveragh Peninsula along a scenic route known as the Ring of Kerry.
In addition to the beach gallop of your dreams, the ride features mountain tracks and country lanes–each day is something different. You'll stay in three B&Bs along the way–that's how much ground this ride covers. The stable in Killarney is the main base of operations, and the facility itself is designed as a testament to efficiency in stable management. But happy horses are the basis of ride. They are mostly heavier draft crosses, up for the workload with substantial bone, accompanied by a solid temperament. (But not to worry–they do have speed in reserve for that beach gallop.)
We met up at the stables in Killarney and transferred by car to our starting point at the base of a mountain. A large horsebox by the side of the road delivered our mounts, and after a drop of whiskey was offered around, I quickly found myself on the broad back of a very sturdy bay with a thick black mane. As Donie drolly explained, you can't finish if you never get started, so off we went!
I instantly felt at ease on the tranquil draft cross as I settled into the saddle for our five-hour ride. I wondered at first if my heavy horse would be sluggish, but as we started uphill, my worries were laid to rest as he began powering forward at a steady pace. My mount was so solid and smooth, I thought to myself, a granny could sit this. I barely had to post.
We continued our ascent up the mountain trail, up and over the Windy Gap. Sheep grazing on the hillside gave us startled looks and scampered away as we cantered past on the narrow track. There were many scenic vistas, including valleys, mountains and lakes. A stop for lunch at the Glenbeigh Hotel, and we were back in the saddle, heading down country lanes at a nice trot to clear away the soporific effects of all that good pub food. Traversing through a genuine Irish bog provided a challenge–don't stray from the path!–with a tricky little step-down where we had to dismount and let the horses navigate unencumbered.
As we ambled down quiet roads past small farmhouses to wind up our day's ride, lulled by the rhythmic clip clop of Grundy's sturdy hooves, I had not a care in the world and the most peaceful easy feeling washed over me.
Killarney Reeks Trail is a six-day ride with seven nights of B&B accommodation in Killarney, Glenbeigh and Waterville. For information, contact Killarney Riding Stables: phone +353 (064) 31686; http://www.killarney-riding-stables.com/killarney-reeks-trail.htm.
Of Horses and Hospitality
"Failte" is one of the first Irish terms you'll learn–the Gaelic word for "Welcome." You'll see it frequently on signs, and you'll feel it as well from the Irish people. "Slainte" is the other word you'll rapidly become acquainted with. Meaning "to your health," it accompanies the lifting of many a pint in the pubs.
Don't confuse Irish food with the bland rap that British cuisine has–it's quite good, and I didn't have a bad meal in Ireland. I sampled a range of offerings from hearty farm-type fare, including the traditional Irish breakfast, to gourmet cuisine, and often menus feature a fusion of both.
Sitting in the airport waiting for my return flight home, I regretted not being able to bring an Irish horse home in my suitcase. However, I did find the perfect souvenir of my travels in the duty-free shop: a silver charm bracelet adorned with horseshoes and horse heads. And I learned another Irish saying: "Slan go foill"–bye for now. I am certain I'll be back to ride again.
Liked this article? Here are others on equestrian travel:
Travel Guide for Equestrians
An Equestrian Escape – Riding Connemara Ponies in Ireland
Escape to Iceland
---
This article originally appeared in the February 2005 issue of Horse Illustrated. Click here to subscribe.