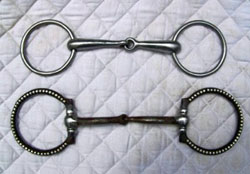 O-Ring or Loose Ring Snaffle:
One of the mildest bits, the plain snaffle features a smooth, simple mouthpiece and round bit rings which may be highly decorated for use on young western performance horses. The plain snaffle is often of loose ring design, meaning that the bit rings move freely through the mouthpiece.
Loose ring snaffles help prevent a horse from pulling and leaning on the bit for support.
If an O-ring snaffle begins to chafe the corners of a horse's mouth, use rubber bit guards or switch to a smooth D-ring or eggbutt snaffle.
When an O-ring snaffle is used on a young western horse, a leather curb strap is often used to prevent the rings of the bit from sliding into the horse's mouth.
Next bit >>
Back to Horse Illustrated's Online Bit Guide.