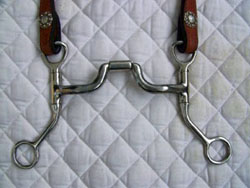 Low port correction bit: Though a wide range of western bit designs are referred to as correction bits, they all share a port (the arch in the center of the mouthpiece that allows room for the tongue), loose shanks and a hinged mouthpiece. In fact, the entire bit is generally quite flexible.
A correction bit with a low port and mild mouthpiece is often used to transition a young horse from a snaffle to a curb bit, or from direct rein aids to neck reining.
Low port correction bits allow a skilled rider with educated hands to fine-tune the western performance horse's gaits, collection and headset.
A correction bit should not be thought of as an everyday bit but as a temporary schooling aid for experienced riders.
Next bit >>
Back to HorseChannel's Online Guide to Bits.