Lyle Lovett performed at the closing ceremonies of the 2010 Alltech FEI World Equestrian Games. Photo: Elizabeth Moyer
In between classes at the 26th Annual Southwest Reining Horse Association Futurity in Ardmore, Oklahoma, the popular American singer/songwriter Lyle Lovett chatted with
HorseChannel.com
correspondent Kitson Jazynka. They discussed his
2010 Alltech FEI World Equestrian Games
reining horse, the striking seven-year old palomino stallion Smart & Shiney. Here's what Lovett had to say about plans for the gorgeous horse after the WEG and about all the fun they had in Lexington.
What's the background on Smart & Shiney leading up to the WEG?
Throughout his show career I co-owned Smart & Shiney with my trainer, champion reining rider Tim McQuay, who was on the U.S. reining team at the WEG. Tim showed Smart & Shiney throughout his open career. I was able to show him in some exhibition classes, which was exciting for me because I just always loved riding this horse. Before the WEG, Tim and worked out a deal so I could own him outright.
How did Smart & Shiney end up competing on the Italian WEG team?
When Tim qualified for the Games, to be fair to his clients, he had to take the horse that he marked the highest score on during the qualifiers. That was the 6-year old palomino stallion and reining champion, Hollywoodtinseltown. Tim's number one assistant, Marco Ricotta from Italy, had been showing that horse. So Marco took Smart & Shiney to the Games. At the games they announced that we co-owned the horse, but actually I already owned him outright at that point.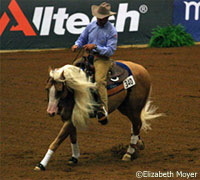 Lyle Lovett's horse, Smart & Shiny, competed at the World Equestrian Games with Italian rider, Marco Ricotta. Photo: Elizabeth Moyer
With Smart & Shiney on the Italian team, who did you cheer for?
Of course, I was rooting for the U.S. team. Not only was my trainer and friend Tim McQuay on the team, but I've gotten to know the other three members of the team really well since I've been competing in reining. They're all my friends and certainly I was cheering for the U.S. team. But I was also pulling for Marco and Smart & Shiney to have a good run, which we ultimately didn't. But the Italian team pulled through with the bronze medal anyway, which I was excited to see. The Italian team was very nice to me and of course I went by and visited the horse every day and talked to him. It made the Games extra exciting to have a horse competing.
What did you enjoy most about being at the Games?
I felt really honored to be asked to play at closing ceremony for the volunteers. But really, to me, the best thing about the Games was the atmosphere in general, which transcended the horse park and sort of took over all of Lexington. Just being a part of it was a highlight for me. And of course I loved watching the reining, and I loved that reining was included in the Games.
What's Smart & Shiney like behind the scenes?
He is the nicest horse I've ever ridden. He's good minded and has a very kind way about him.
What's next for Smart & Shiney?
I'll show him some, and enjoy riding him just because I can. But our main focus with him is that he'll be standing stud. His oldest foals are two-year olds this year. He'll continue to stand at stud at McQuay stables in Tioga, Texas.