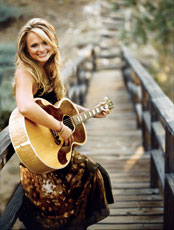 Photo: Jack Guy
Successful country singer Miranda Lambert's songs, such as "Kerosene," "Gunpowder and Lead," and her most recent hit, "Dead Flowers," gave her a rock 'n' roll edge. But this musician isn't all that tough–she's got a soft spot for animals.
A newcomer to barrel racing and an advocate for homeless animals, Lambert took some time to talk to us about how she got into horses, how they inspire her music, and what it takes to make it all work.
HI: What are the plans for your touring schedule?
ML: I'm going to be playing plenty of shows in support of my new record, Revolution, which comes out Sept. 29. This record means a lot to me, and I've been so excited to get it out there for the fans.
HI: What are some of your career highlights?
ML: Touring with Kenny Chesney was amazing, and I've been able to tour with so many other country superstars, such as Keith Urban, Toby Keith and George Strait. Winning the Academy of Country Music's (ACM) Top Female Vocalist award and then returning the following year and winning ACM Album of the Year for Crazy Ex-Girlfriend was definitely a high point. It took a while for all that to sink in!
HI: What brought you to country music?
ML: My dad is a really gifted musician–he plays the guitar and writes songs. We started writing together when I was a teenager, and he taught me how to play the guitar. From there, I started playing at honky tonks in Texas. My mom and I traveled around knocking on radio station doors to see if they'd meet me and play my songs.
HI: How do you balance your personal life with horses and with your career?
ML: I'm on the road a lot, but when I'm home on my ranch in Oklahoma, I try to make time to get out and ride. I always look forward to a few days at home when I can ride–it helps me recharge. When I'm traveling, I have family to look over all of my animals.
HI: How do horses influence your music?
ML: When I'm riding, it clears my head and I'm able to write better music. I love being outside. It's always good to get away from the computer and cell phone and just enjoy being with my horses.
HI: How long have you been interested in horses?
ML: I grew up in Texas, and my family and I went to a lot of rodeos. Later on I started performing at rodeos and my admiration for horses grew. I've always felt a great affinity for them.
HI: What is your equestrian sport of choice?
ML: I'm definitely more of a recreational rider, but I also just started barrel racing. At the rodeos, I always wanted to see what the barrel racers were up to, so I recently started taking lessons to find out for myself. I have good friends at home who are trainers, and they have helped me so much in understanding this new sport and training properly for it. I have not fallen off yet, knock on wood, and I just did a ranch rodeo. It was really exciting!
HI: Who are the animal members of your family?
ML: I have three horses on my farm in Oklahoma. Playboy is 10, Zeus Troubadour is 18 and Baldy is 9. I've also adopted a number of dogs, including Delilah, who I got at the Humane Society of East Texas; Delta Dawn, who I found at a Sonic restaurant; and Waylon and Jessie, who my mom and I found abandoned on the side of the road. I have a few cats, two donkeys, two pigs, miniature horses, chickens … the menagerie is always growing. By the time this prints, I will likely have adopted something else!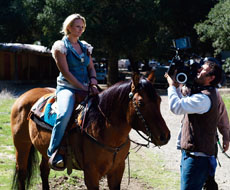 Photo: Wade Brands
HI: Do you have any specific riding goals?
ML: I eventually want to get comfortable going faster, but right now I am just enjoying getting to know my horses better while riding them.
HI: What's your favorite thing about horses?
ML: I love how big and beautiful they are, but also how sweet and loving they are at the same time.
HI: What advice do you have for aspiring musicians and equestrians?
ML: I think confidence is the key to both music and riding.
HI: What's your favorite part of increasing awareness for animals that need homes?
ML: I've been able to host multiple charity events, and just this past May, I helped raise money for the Humane Society of East Texas. [Lambert's Second Annual Cause for the Paws charity event was a major success and raised more than $120,000 for the Humane Society of East Texas.] I think it's important for people to consider adopting animals that are in need of homes. Mutts of all kinds are the best, and there are so many that are sitting and waiting for a good home. I love raising awareness. I'm in the middle of establishing the MuttNation Foundation, which will serve to raise funds for unwanted animals and pets. I'm also assisting in building shelters; this way, I can check on how the money we're raising is really spent by helping shelters place the animals in loving homes.
HI: Anything else you'd like to add?
ML: I'm just happy and feel blessed to be doing what I'm doing. There's been a slow and steady build to my career, and it really feels like each step along the way gets a little sweeter.