Not everyone wants a fancy warmblood with European bloodlines. And, quite frankly, not everyone can afford one. Despite the trend toward warmbloods in the show-ring, there are many diehard Thoroughbred fans. The Thoroughbred is an athletic, courageous horse with a great deal of aesthetic appeal and one that can still hold his own in various sporthorse endeavors.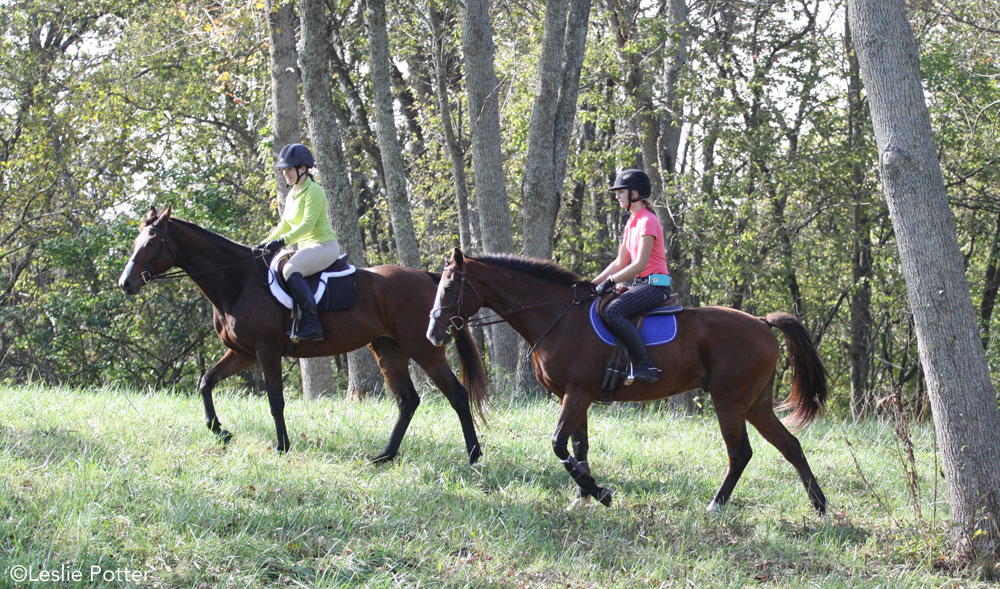 Although some breeders focus on producing Thoroughbreds for the show arena, the most popular place to locate a relatively inexpensive Thoroughbred for English riding remains the racetrack. Every year, the Jockey Club registers approximately 35,000 foals. The vast majority flunk out at the track, making them inexpensive prospects for show horse buyers.
Sound appealing? Don't sprint to your local racetrack, auction or Thoroughbred adoption center just yet. Beyond screening for soundness problems and an appropriate attitude, you have to make sure you're ready to take on the task of re-schooling an off-the-track Thoroughbred (OTTB). A fresh OTTB is not the ideal mount for a novice.
Learning to Communicate
One of the first things you'll notice when you climb aboard the typical OTTB is that he is practically clueless about traditional rein aids. Rather than yielding to rein pressure, the OTTB is more likely to lean on your hands and go even faster. Or worse, he may raise his head like a giraffe. It's not that your ex-racehorse is being defiant. He simply hasn't been trained like your average show or pleasure horse.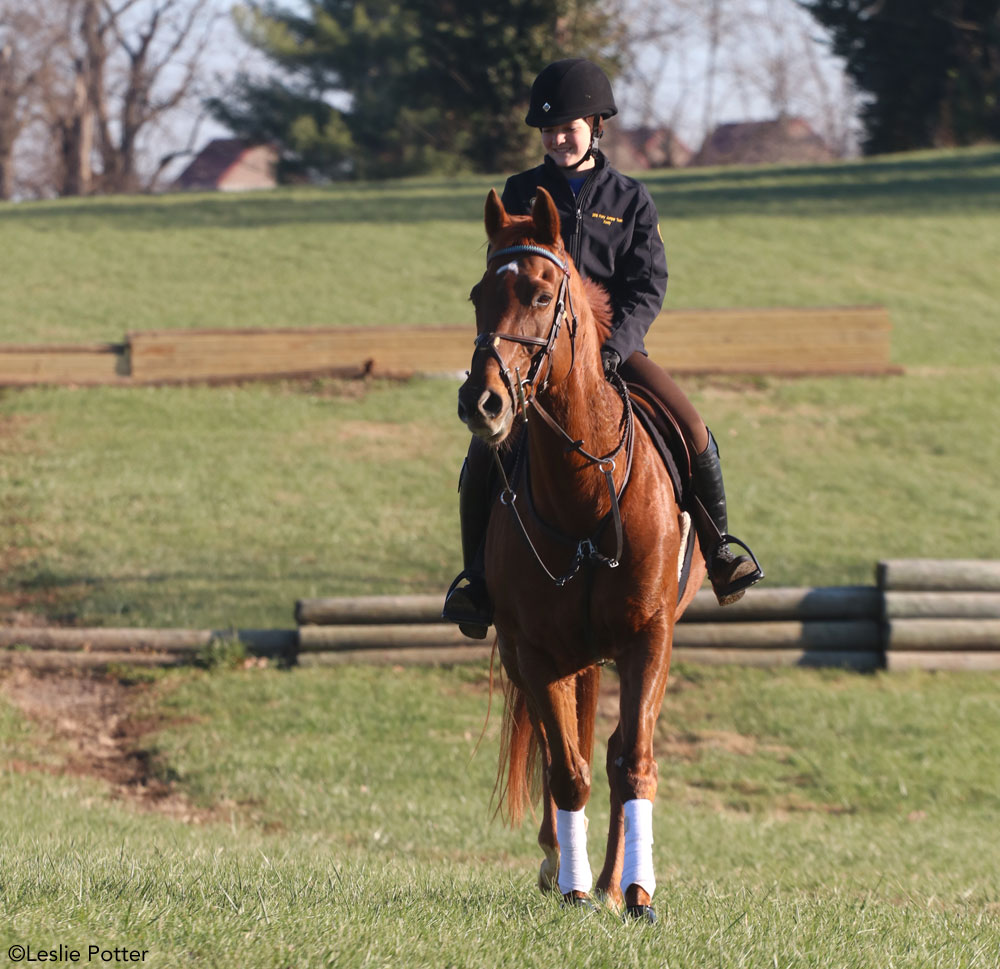 Nancy Koch is the executive director of CANTER in Ohio. CANTER is an acronym for Communication Alliance to Network Thoroughbred Ex-Racehorses. Using volunteers, CANTER networks racehorse owners and trainers with buyers who are looking for ex-racehorses in need of second careers. But Nancy has also spent many years working with Thoroughbreds, both on and off the track.
"Most people are not aware that racehorses are actually taught to gallop at a certain speed," she explains. "At the track, when just galloping normally, riders will place their hands firmly on the horse's neck and 'bridge' the reins, thus keeping a steady hand and letting the horse pull slightly against himself."
Bridging the reins is accomplished by crossing or folding the slack in the reins, then placing that fold across the horse's neck. The rider then presses down on either side of the horse's neck, removing any slack from the reins. The bridge is held approximately where the neckstrap of a martingale or breastplate would be located, Koch says.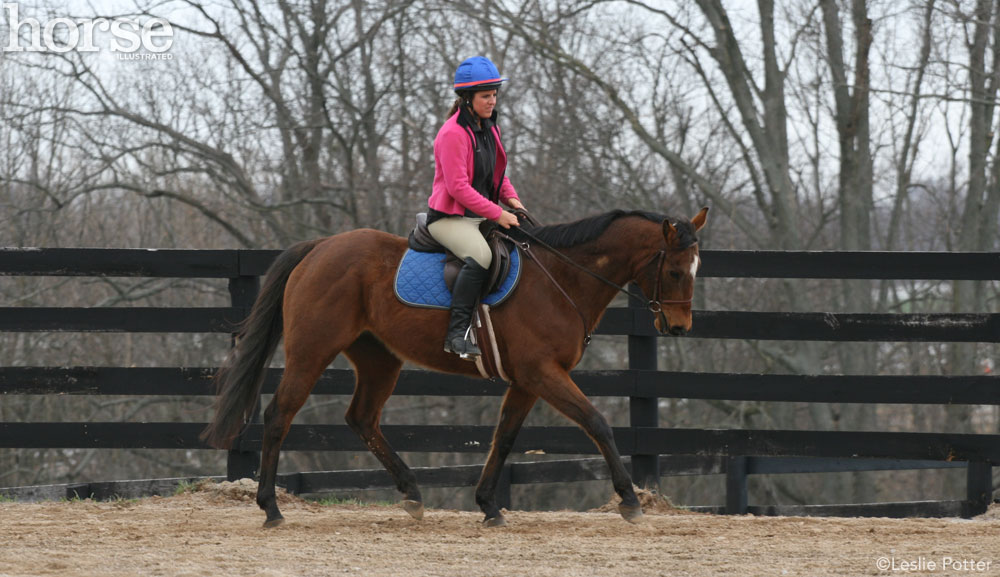 So it's no wonder that an OTTB will often elevate his head and increase his pace when you initially take a feel of his mouth.
"Any change in the rider's hands indicates a change in pace to a racehorse," Koch explains. "If an exercise rider lifts and shortens the reins, it temporarily breaks that steady contact on the reins. By increasing the horse's impulsion at the same moment that the exercise rider lifts his hands, the horse learns that a shorter rein means more speed. Because we have increased the horse's speed, the weight of the new contact on the bit is increased, and that creates leverage for the horse. So in short," Koch concludes, "the harder a rider pulls on a racehorse, the more leverage and speed that horse will give to you."
"The harder a rider pulls on a racehorse, the more leverage and speed that horse will give to you."
Hence, you must attempt to connect with your OTTB in a different way than you would with another horse. One of the first steps is to teach your new horse to longe. That's not such an easy task, as most racehorses aren't taught to longe at the training farm. While teaching your OTTB the basics of longeing, include simple voice commands, especially the meaning of the word, "whoa."
You can also teach him to respond to the words "trot" and "canter" by using distinct vocal intonations for those words. Reinforce the verbal cues with a cluck or a snap of the longe whip if necessary. When he complies, praise him. When you are riding your horse, you can associate the verbal cues with subtle leg and hand aids during transitions.
Beginning an OTTB's Retraining
Kristi Boyd of Trinity Hill Farm in Del Valle, Texas, agrees with these tactics. She has made a career out of restarting OTTBs specifically for the junior and amateur adult hunter and jumper markets.
"I use ground work, which many of the OTTBs have never had, and teach some voice commands." Once the ex-racer comprehends the basic voice cues and is comfortable with ground work, Boyd hops aboard. Right away she begins teaching the OTTB that there is a difference between pulling on the reins to go faster, and a definite half-halt to regulate and establish the desired pace.
"I use simple repetitive requests, such as half-halts with big releases of the rein pressure, in conjunction with the voice commands. First I do it at the walk, and then as the horse improves I move on to the trot and canter." When her new student responds, Boyd is prompt with a reward. "I make sure I use lots of 'big praise' and lots of pats on the neck."
As an example of how to accomplish this, the OTTB is worked in a large circle at the trot, approximately 20 or 30 meters. By using the voice command for "trot" and perhaps a simple cluck to achieve the upward transition, the horse will begin to trot. If his pace increases beyond what is desired, a half-halt is applied to steady the horse back to the optimum pace. At the precise moment the horse complies, however, there is an immediate reward: a softening of the rein.
"Sometimes just a two-minute ride with one good transition at the walk is worth more than an hour of pulling at the canter. Praise goes a long, long way with a Thoroughbred."
Koch concurs. "Sometimes just a two-minute ride with one good transition at the walk is worth more than an hour of pulling at the canter. Praise goes a long, long way with a Thoroughbred."
Since your intention is to educate your OTTB, don't take the perceived easy route by resorting to a harsher bit to gain some short-term responses. Instead, stick with a bit the horse is used to: the simple smooth-mouth snaffle. Then work from there by asking the horse to carry himself without leaning on your hands for support. Institute half-halts liberally, but don't forget to reward your horse for any response by relaxing your feel on the reins.
Softness and Consistency
Denice Klinger of Alpharetta, Ga., is an experienced amateur adult hunter rider who has started three of her own OTTBs and brought them along to great success on the A-circuit. She has found that less is much more when it comes to teaching rhythm and pace. "I let go of the horse's face," she says. "The average OTTB isn't going to run off automatically, he's going to start slow and build."
Again, the half-halt comes into play, rather than merely hanging onto the horse's mouth to convince him to maintain a slower pace, Klinger admits that she probably rides "lighter" than some hunter riders because she personally enjoys maintaining a very soft feel on the reins. How does she achieve that almost featherweight contact on her Thoroughbreds' mouths? Patience and compromise.
"I don't try and force the gait up or down into my preferred speed right away. If my OTTB's comfortable canter is a click or two above where I ideally want it to be, I spend the first few weeks or even months teaching him that a self-sustained rhythm is what's important." Such a concept may be difficult for some Thoroughbreds, Klinger acknowledges. "This might be the first time the horse has had to carry himself."
Be consistent, and don't lose patience. Klinger is adamant about that. "You have to tailor your rewards to any response, not just the perfect response, on the part of the horse." In the early stages, Klinger focuses on letting her horses understand the basic tenets of English riding. She makes a request. The horse responds, even if just slightly. In turn, the horse is rewarded. "I want to set them up for easy success," she says.
Proceed logically, and don't rush ahead. Until you can get your ex-racer to carry himself in a balanced manner without lugging on your hands for support, and maintaining a steady pace with infrequent half-halts as reminders, there's no sense in going on to the next steps: leads and circles.
Right This Way
Is your OTTB relaxed and comfortable with transitions and halting? Will he remain at a steady pace, with a definite rhythm without you constantly reminding him? If so, it's time to teach him to move off your leg and to bend slightly around his turns.
Turning to the left and bending left won't be much of a problem. Although your ex-racehorse might not be trained to respond to leg aids, he generally won't resent your legs being placed against his sides.
Begin by circling on a large circle of about 20 meters (about the size of a circle made on a longe line). Start by tracking to the left. As you press your inside (left) leg into his side and pick up more contact with your inside (left) rein, your horse should make a fairly decent circle to the left. That is only natural. Racetracks in North America are comprised of left-hand turns, and virtually all mechanical hotwalkers on the backstretch work counterclockwise. As you apply a little more pressure with your left leg, your horse should spiral out or move out on his circle.
Reward him for this. However, when you reverse and track to the right, you'll probably encounter a much different animal.
Asking an ex-racehorse to make a circle or a smooth turn to the right is sure to incite some resistance. The horse is simply unbalanced in that direction. For example, your OTTB might manage some jagged formations, like pentagons and hexagons. But circles or ovals? Forget it.
To re-educate your OTTB, you may have to resort to some tips inspired by western riding. In western terms, teach your horse to follow his nose. When tracking in a large circle to the right, use an inside (right) opening or leading rein—hold your right hand out to the side, approximately even with your horse's shoulder, and slowly bring your right hand back to your hip. Your horse should oblige with his nose following the soft contact on the right ring of his snaffle bit. As he curves ever so slightly in a half turn to the right, bending his neck, release the pressure and pat him.
Eventually, add pressure with your inside (right) leg as you gently guide his nose—and thereby his head, neck and body—around to the right. Your inside (right) leg will keep him from simply falling in on the circle. By pressing his ribs gently "out" on his turn, but leading his head and neck around to the right, you should be able to create a reasonable circle. With a lot of praise for an honest effort, your OTTB will begin to realize that there are two directions in life.
The Canter
Despite your progress, when you begin to canter, be prepared for your horse to have some difficulty picking up his right lead. You must remain patient.
One method for introducing a departure onto the right lead is to quietly circle your horse to the right at a slow trot. Make sure he is correctly bent to the right. Then, as you return to the arena rail, nudge him into a canter using your voice command, a cluck and a squeeze of your outside (left) calf. Some ex-racers will pick this new trick up quickly. Others are much more reluctant. Just be patient and consistent, and in a few rides, your horse will have his right lead. And he'll be well on his way to a new career.
Cindy Hale is a regular contributor to HI and recently retrained an OTTB of her own.
Don't miss the second half! Starting Over Part Two: Reclaiming the Mind >>