Over the course of 16 days, 5,662 athletes from 42 countries in the Americas competed in the XV Pan American Games held in Rio de Janeiro, Brazil, July 13 through 29. Equestrian, one of 34 sports at the Games, saw approximately 100 horse and rider combinations from 18 countries–including the United States–competing for Team and Individual medals in the Olympic disciplines of showjumping, dressage and eventing.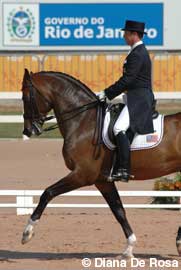 Gold medalist Christopher Hickey (USA) aboard Regent
Not surprisingly, U.S. equestrians took home more medals than any other country. But acquiring medals wasn't an easy ride. While the Americans found overwhelming victory in eventing and dressage, U.S. show jumpers were confronted with some insurmountable obstacles—namely Canada and Brazil.
Here's a look at how the medals were awarded in Team and Individual competition for all three equestrian disciplines during the Games:
Team Dressage
Gold: Team USA
Silver: Team Canada
Bronze: Team Brazil
Individual Dressage
Gold: Christopher Hickey (USA) aboard Regent
Silver: Lauren Sammis (USA) aboard Sagacious
Bronze: Yvonne Losos de Muniz (DOM) aboard Bernstein las Marismas

Gold medalist Karen O'connor (USA) aboard Theodore O'Connor
Dressage news report >>

Team Eventing
Gold: Team USA
Silver: Team Canada
Bronze: Team Brazil

Individual Eventing
Gold: Karen O'Connor (USA) aboard Theodore O'Connor
Silver: Phillip Dutton (USA) aboard Truluck
Bronze: Gina Miles (USA) aboard McKinlaigh
Eventing news report >>

Team Showjumping
Gold: Team Brazil
Showjumping silver medalist Rodrigo Pessoa (BRA) aboard Rufus
Silver: Team Canada
Bronze: Team USA
Individual Showjumping
Gold: Jill Henselwood (CAN) aboard Special Ed
Silver: Rodrigo Pessoa (BRA) aboard Rufus
Bronze: Eric Lamaze (CAN) aboard Hickstead