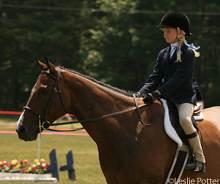 There is something undeniably elegant about a bay horse. The ebony mane and tail complement a coat that ranges from shades of nutmeg to mahogany. Then there are the chestnut horses. Who can deny the appeal of a horse whose fiery red coat glistens like copper? Yet in the show arena, a plain bay or chestnut can get lost in a sea of like-colored horses. If you compete on a horse that's clothed in a plain brown wrapper, here are some tips to help your horse get noticed.
First, consider any white markings that you might be able to highlight. If your horse has any socks, stockings or a blaze, be sure to scrub these areas clean the night before the show. You can also make them look super white by clipping away the top layer of white hair, which may have become yellowed and dingy. Then, right before you head through the in-gate, bolster the gleam by adding a dusting of cornstarch or baby powder to the white areas and then brushing away the excess.
Next, look over your tack. Western competitors have a great deal of leeway in their choice of headstalls. Unique silver conchos and rawhide embellishments can catch the judge's eye and make your horse memorable. In the huntseat division, however, you'll need to be more discreet. A small brass bridle tag on your horse's crownpiece, for example, might be enough to differentiate your bay gelding from another one. A sheepskin-lined girth is another option.
Finally, think about your own attire. Once again, riders who compete in the western show pen have more options than their English counterparts. A splashy shirt that coordinates with a saddle pad in shades of blue, red or teal will help the judge tell your horse apart from the half-dozen other horses of the same color. Huntseat riders, unfortunately, have more limitations on their clothing. Relegated to wearing tan breeches paired with hunt coats in hues of navy and gray, about the only dare-to-be-different alternative is to select a shirt in a relatively bold color such as carnation pink, sunflower yellow or pastel turquoise. Yet if riders go too far in their quest to be noticed, they risk sticking out like the proverbial sore thumb. Sparkling helmets, gloves and chokers with rhinestones, and gaudy earrings are deemed too flamboyant for the staid world of hunters and huntseat equitation.
Remember that any alterations in your apparel or your horse's tack won't make up for flaws in your performance. But they might help a judge remember you. In fact, it's not unusual for a judge to jot down specific references to horses such as, "fluffy pad" or "pink shirt" to help them tell apart horses of similar colors. Indeed, while there are plenty of plain brown horses that are wildly successful in the show world, they are also sent into competition with a few extra touches that tell the judge, "Hey, look at me!" With a little extra effort, you can do the same thing.