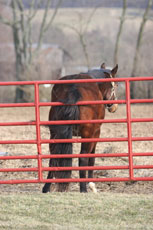 In the good old, bad old days, we used to think tail rubbing was just an annoying habit. Take a look at any horse care book written 30 years ago and you might find the author advising readers to either bandage the tail, set up a tail board in the stall or install a strand of electric wire to zap the horse each time he tried to rub. Nowadays, we know more about autoimmune problems and other health issues, so we understand that blaming the horse isn't logical. The rule of thumb when dealing with chronic tail rubbing is to try to look for the obvious problems first and then enlist the help of your veterinarian.
Tail Rubbing Troubleshooting:
1. Does your horse have pinworms? The physical symptom of pinworms is tail rubbing. Pinworms crawl out of the anus to lay their eggs. As you can imagine, this causes the horse to rub his tail. Pinworms are unlikely if you've been diligent about your deworming. To treat a pinworm infestation, use an equine dewormer labeled for pinworm control. However, consult your veterinarian if you are unsure. Horses heavily infested with parasites should be under a practitioner's care.
2. Does your horse have dry skin? Susan Harris, Centered Riding Clinician and author of the book Grooming to Win, says to shampoo the tail with a gentle shampoo, then moisturize with a conditioner and finish by rubbing baby oil or Vaseline through the hair and into the skin at the top of the dock. "The hair will be greasy, but this doesn't matter," she says. "You're trying to soothe the skin and stop the itch." If this doesn't solve the problem, contact your veterinarian. Your horse could have contact dermatitis caused by something in his environment, such as his bedding.
3. Does your horse have a dirty udder or sheath? If so, tail rubbing is eminent. The cure is to clean the sheath or udder. If you're unsure, ask a knowledgeable person or your veterinarian for help. (See Sheath Cleaning for more advice.)
4. Does your horse have "sweet itch?" Sweet itch or summer seasonal recurrent dermatitis, is an overreaction to the saliva of a gnat called Colicoides pulicaris. It is thought that sweet itch may be genetic and seems to be most prevalent in ponies. Symptoms include itching, sores, weeping discharge and hair loss. A horse with this affliction will be tormented by itching and will scratch his skin is raw. If you suspect your horse has sweet itch, consult your veterinarian. He or she can show you how to manage this distressing and chronic condition.
That telltale sign of rubbing—ugly splayed tail hairs with a bald patch in the middle – can be disheartening. Remember, your horse doesn't want to itch. Find the underlying cause of his condition instead of reaching for that tail wrap. Your horse will thank you for it.