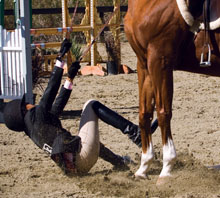 A major injury-causing incident can shake a rider's self-confidence to the core. But there are also other situations that can pose threats to equestrians' poise, such as failing to master a new skill or lacking the assurance to correct a misbehaving horse. And though practice in the saddle hones physical skills, it's important to build confidence, too.
Here's how to do it ride-by-ride:
Think positively: Whether learning a new skill or venturing out onto a new trail, Dr. Paul Haefner recommends keeping negative thoughts at bay. "Thinking positively helps you focus your mind on things you can do," he says. "Thinking negatively reinforces what you shouldn't do, and you become more tense or fearful, and a downward spiral begins."
Be aware: Sometimes it's impossible to let go of everyday job or family stressors. And ignoring them can get in the way of staying focused for a good ride. So Haefner recommends cultivating an awareness of what's inside before every ride. "Accept what's inside you — stress, fear or frustration — in a nonjudgmental way," says Haefner. "Spend some time on emotional fitness."
Look for options: When you're stressed, it's best not to tackle something new, Haefner says. Instead do something familiar and easy. "Maybe you don't want to ride that day," he says. "Maybe you just want to groom instead."
Be visionary: When the time is right to tackle a new skill, Haefner says not to disregard the power of mental imagery. Getting a handle on the process — and repeating it in your mind — can help build not only skill, but confidence, too.
"Visualization is a powerful tool not just for relaxation, but for learning a new skill," he says. "Usually people will go for a riding lesson once a week, and the rest of the week nothing happens — even if they're riding. When you're learning a new skill, practice it until you get the feel for what it's supposed to be," he recommends. "Then rehearse it in detail in your mind over the course of the week."
Conjuring a mental image is useful when something unexpected arises during a ride, too. Envision an image that represents a situation in which you're calm and relaxed, Haefner advises. "For example, picturing melting butter often leads people to 'melting' into things. Mental imagery can help when you're in an uncomfortable situation."
A new attitude: Finally, Dr. Janet Edgette says an attitude of gratitude can help set the mental and emotional stage for a satisfying ride. "Just being grateful that you have the opportunity to take part in equestrian sports helps," says Edgette.
Back to Get Your Head Together.