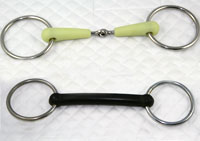 Rubber Snaffle: The effect of a snaffle bit's action is made milder when the mouthpiece is encased in rubber. The thick rubber material can be either pliable or hard. Some rubber snaffles include a faint taste that's pleasant to horses. A few designs, created specifically for ponies, are available in colored rubber.
Horses with light mouths often appreciate rubber snaffles.
Rubber snaffles encourage green or sensitive horses to take hold of the bit.
Regularly inspect rubber snaffles for signs of wear or chew marks.
Next Bit >>
Back to HorseChannel's Online Bit Guide