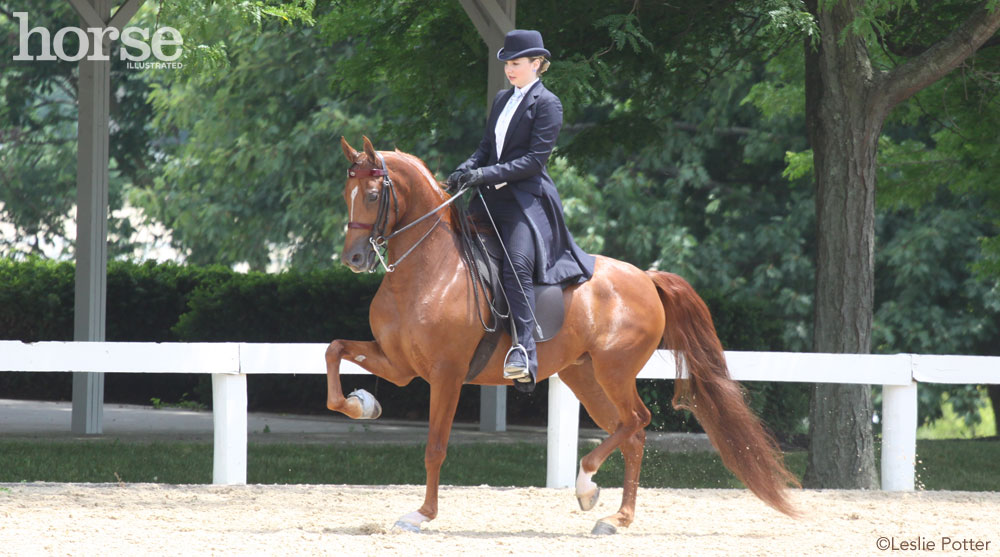 Many saddle seat riders believe their sport is misunderstood by those unfamiliar with the discipline. Here, Carole Stohlmann, a United States Equestrian Federation "R" saddle seat equitation, Arabian, National Show Horse and Saddlebred judge from Oklahoma City, clears up four common saddle seat myths and misconceptions.
Myth #1: Saddle Seat Horses Display Artificial Animation
Stohlmann explains that a good saddle seat horse has the conformation and breeding to perform with animation naturally. "Saddle seat horses are conformed to move as they do," she says. "The longer muscling, the lengthy pasterns, the ratio of the forearm and cannon bone, the increased angulation of the hocks–all allow the saddle seat horse to drive forward from the rear and show more hock action, propelling the horse forward and lifting with elevated knee action in the front."
Here's how to decode the saddle seat classes for different breeds >>
Myth #2: Saddle Seat Horses Are Scared
This misconception usually comes from riders who aren't used to a discipline that encourages expression and energy from the horses. "Saddle seat horses may appear scared, but in truth their animation and vitality are displayed because they are less restricted and somewhat free to be expressive and attentive to all that is around them," Stohlmann says.
Myth #3: Saddle Seat Riders Are Just Posing, Not Really Riding
As in all disciplines, some saddle seat riders are more proactive and skilled than others. But rest assured, that almost flat, often slick cutback saddle means even maintaining the correct position takes practice.
Stohlmann believes this myth stems from the upright position required in saddle seat, which some people may interpret as stiff or posing. "Actually, the conformation of the horse, together with the flat, cutback saddle used in saddle seat riding allows the rider to sit in a more upright position, which frees the withers and shoulders of the horse to accommodate a more elevated stride that lifts the rider out of the saddle [for posting]," she explains. "The posed rider is not desirable and interferes with the suppleness of the horse in performing his gaits—as stiffness and posing does in all riding."
Find out the function behind saddle seat equitation >>
Myth #4: Saddle Seat Horses Are Out of Control
"The myth that saddle seat horses are out of control may appear so to those who work diligently to display slow, methodical and controlled gaits," Stohlmann says. In other words, a saddle seat horse may appear out of control to someone more familiar with English or western pleasure, but for the saddle seat horse, greater energy and movement is desirable. "The animation and energy of the saddle seat horse combines with considerable forward motion so that the horse can move forward freely and display the movement that is the hallmark of a good saddle seat horse," Stohlmann explains.
Keep the above in mind the next time you watch a saddle seat horse and rider. Brilliance, animation and forward movement are the hallmarks of a great saddle seat performance, so put your traditional rail class notions aside, and enjoy a great show!