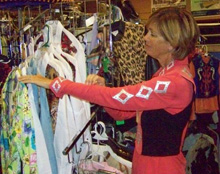 The economy has probably affected your budget, taking a big bite out of that little nest egg you'd saved for the horse show season. So how do you look like a winner when you're counting your pennies? You'll find some relief in knowing that horse show judges really aren't scrutinizing your wardrobe.
"Honestly," says United States Equestrian Federation (USEF) judge Andrea Meek, "I'm not marking my scorecard thinking, 'Gee, I wish I could pin that girl but darn, she's not wearing Brand X breeches'. "
There are several ways to acquire budget friendly show clothes that will help you look like a winner. First, try to buy used apparel. Consignment stores are a gold mine, but there are several online websites that continually update their inventory of luxurious "pre-owned" western show outfits. Hunter and dressage competitors can often find used coats in good condition on eBay. Next, never pass up a good sale. Even if you have to purchase a hunt coat, showmanship jacket or horsemanship shirt that's a size too large, the money you save can go toward alterations, which will result in a customized fit. You can also customize humdrum basics bought from the pages of catalogs. After some consultation courtesy of your local fabric store, add faux gems and Swarovski crystals to western show apparel. If you're a huntseat competitor, creativity can update your show shirt collection. Buy several plain white shirts (which tend to be the least expensive) and then transform them into a rainbow of colors by dyeing them in your washing machine.
Both western and English riders can also save money on headwear, but they should beware of hats and helmets that are downright unattractive. For western competitors, USEF judge Jolene King offers, "A pre-owned, older felt hat is fine, but get it blocked. There's nothing worse than a rider entering through the gate wearing a lop-sided, slightly askew hat. A lot of riders learn to shape their own hats, which can save a few bucks, but if you don't know how to do it correctly then pay the $10 to $15 to have a used hat professionally blocked."
Hunter and equitation judge Nancy Frost agrees that a hat is a rider's crowning glory. "Every hunter and jumper exhibitor should always wear an ASTM-SEI approved helmet. But don't compete in your ratty, dusty schooling helmet. That doesn't mean you have to buy a $350 helmet. You can purchase a lovely, perfectly suitable show helmet for far, far less. But then reserve it for just that: showing."
From head to toe, the price of show apparel can be daunting. Though not much of a western boot is visible beneath chaps, dressage and hunter riders have their entire leg on display for the judge. Ill-fitting boots not only detract from their appearance, but can also affect their position in the saddle. English boots that are too short or too loose—especially around the ankle—don't provide enough stability.
"Please, no rubber boots," says Andrea Meek. "Instead, shop around for a pair of used leather boots that fit your foot and are tall enough, but maybe they need some alteration in the calf. A good boot repair person can do that. Plus, there are so many variations in sizes and price ranges, that you can probably find a new pair of boots off the rack that will fit good enough and still be affordable."
See? Even in this tough economy you can outfit yourself in appropriate show apparel. Instead of spending extra money, you'll have to spend some time to find the bargains. But they are indeed out there.
Read on for more money-saving tips.