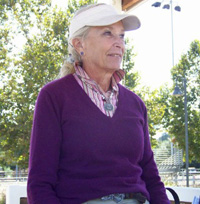 What goes on in the mind of a horse show judge? Many exhibitors envision a hardened official with a jaded outlook, someone who scrutinizes every moment of every performance. But that's generally not the case.
Meg Schulman has been judging hunters, jumpers and hunt seat equitation for over 30 years. The USEF "R" judge is an accomplished horsewoman as well, so she brings the perspective of a successful competitor into the judge's booth.
"I think one misconception people have is that they think the judge is against them, but actually the judge is your biggest supporter," Schulman says. "We're always rooting for the competitor. I think riders might not get so nervous if they realized this."
In fact, because the majority of judges have spent years competing in the show ring, they know what it's like to endure disaster. They've felt the humiliation of a rambunctious green horse and the disappointment of a jump rail plunking to the ground. Schulman says that most judges feel pangs of empathy when someone is enjoying a lovely round over the jumps, or cruising around a flat class, only to have something suddenly go wrong. "Believe me, at those times, no one feels worse than the judge," she says.
Another misconception Schulman would like to eradicate is the notion that sometimes a judge simply doesn't like a particular horse or rider. Instead, a lack of ribbons is more often due to some fault in the horse's performance or in the rider's position. She offers that, "I might have a very positive impression about a certain horse or rider except for one thing."
At a large show, that one thing could equate to a lack of ribbons. So the rider leaves, feeling as if the judge was somehow prejudiced against her horse. "Unfortunately," Schulman explains, "at a show there just isn't the time or the opportunity for me to explain to the rider what needs to be changed or improved."
Although riders can improve their show ring skills by attending clinics and judging seminars, and taking lessons with a professional trainer, Schulman does offer a bit of first hand advice. "Play to your strong suit," she states. "For example, if your horse has a rough sitting trot, and it's uncomfortable to sit, don't come into the ring and sit the trot through your opening circle. There's no rule that says you must sit the trot. Instead, demonstrate what you and your horse do well."
By heeding Schulman's advice, and understanding the mindset of the typical horse show judge, you can ride your way to more blue ribbons.