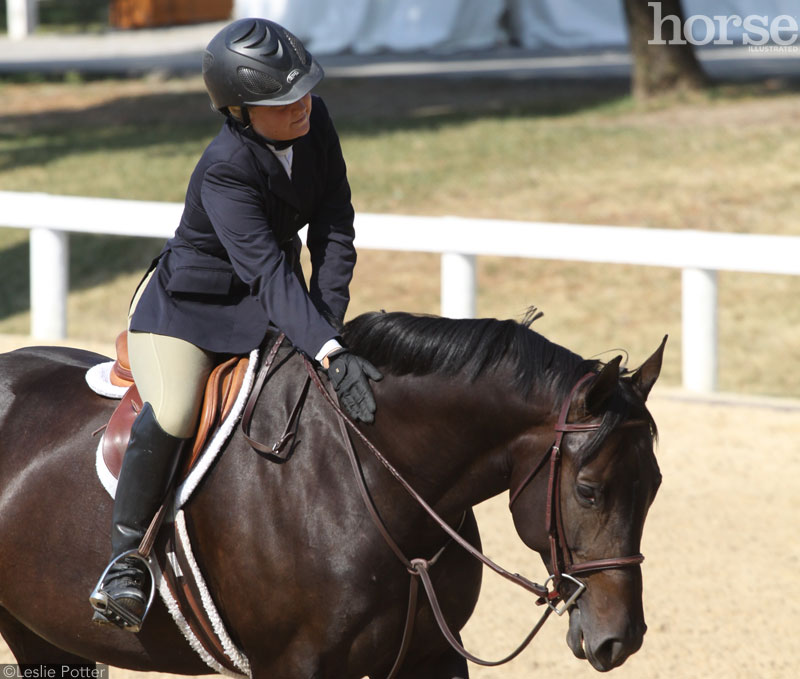 Displays of good horsemanship, like thanking your horse after your round, will give a positive impression to the judge. Read on to find out about some show ring habits you should avoid.
While horse show judges frequently offer tips on what constitutes a winning performance, they rarely reveal what annoys or disturbs them. Two popular horse show judges shared the little things that irk them. Nancy Frost judges hunters, jumpers and hunt seat equitation and Jolene King officiates at western performance and reining competitions. Here are a half-dozen of their pet peeves:
1. Schlocky attire.
The rules for attire at schooling shows are rather slack when compared to the traditional clothing expected at rated or circuit shows. No one expects competitors to rush out and purchase $1,000 worth of designer clothing to compete at a schooling show. But tank tops, t-shirts with logos, jingly-jangly jewelry, dirty boots and mud-encrusted half chaps have no place in the show ring, even at schooling shows. Surely, riders can do better. "Show some respect for your sport," states Nancy Frost.
2. Obscured number cards.
After all the time and expense of preparing for a class, why do so many competitors neglect to properly secure their number? Attention to such a minor detail is important, whether the number is displayed on the rider's back or on the saddle blanket. "Please, no slapping, flapping, crooked numbers. If I'm straining to see your number, I'm not watching your performance," explains Jolene King.
3. Fashion trends run amok.
"Low rise breeches are all the rage right now, especially with junior riders," says Frost. "But they can create a sloppy appearance if the tail of the rider's show shirt creeps up and outside the waistband. I'll be judging an equitation or medal class, where presentation and polish is so important, and here will be this rider with her shirt tails hanging out under her huntcoat."
4. Circling and circling and circling.
In a large or hectic class, sometimes it's necessary to cut across the arena or make a circle to avoid disaster. But if overdone, the rider begins to look out of control. Frost calls it, "Circling the wagons or playing cowboys and Indians." Instead, she suggests avoiding collisions by coming in off the rail and maintaining a straight path that parallels the track of your competitors. "That's called using the quarter lines of the arena," she explains. "Once you're past the traffic jam, you can then rejoin the rail."
5. Poor sportsmanship.
Emotions can get tense at a horse show, but there's never a reason to take your frustration out on your horse. "While judges are trained to stay 'in the moment', nonetheless displays of poor sportsmanship are hard to forget or ignore," offers King. "Besides being abusive toward the horse, it projects a poor image of our sport to spectators."
6. Lack of preparation.
Every class has criteria that a judge uses to evaluate the performances. Competitors should know the specs before entering. Though trying new things is admirable, entering a class that requires some expertise on a whim (or a dare) is frustrating for the judge and tedious for the other competitors who are waiting their turn. "I'll be judging a trail class and I'll have riders who really have no clue about how to approach a bridge or open and close a gate," says King. "It makes me wonder: 'Did they even practice this at home'?"
Though they're trained to be professionals, judges are only human. A first impression is often a lasting impression. Consider these pet peeves next time you compete and you'll have a much more successful horse show.
Liked this article? Here are more insights from horse show judges:


The Softer Side of a Horse Show Judge


Dressage Judges' Pet Peeves