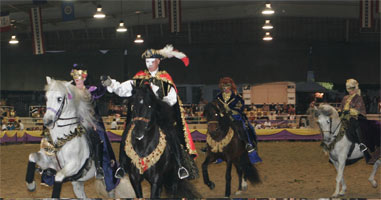 Paso Finos

, Andalusians, Lusitanos, Peruvian Horses, Aztecas, Mangalarga Marchadors and other Spanish-bred horses step high and bring enthralled Angelenos to their feet each year during the one-of-a-kind "Fiesta of the Spanish Horse." There's good reason for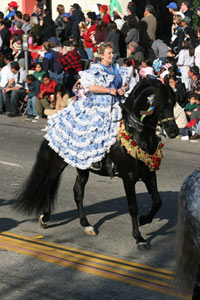 the hoopla—the "Fiesta of the Spanish Horse" is a four-day event held each spring that features multi-breed competitions. But after the competition simmers down, the real fun begins: The event culminates in an evening performance that celebrates the heritage of the Spanish horse and its travels from Spain and Portugal, through South American, into Mexico and finally into California. The "Fiesta of the Spanish Horse" evening performance includes Ballet de Mexico Aztec Folklorico Dancers, breed specific exhibitions, drill teams, and even a "Champagne Challenge" that highlights just how easy it is to "sip and ride" one of the many smooth-gaited Spanish breeds.
The evening performance also features a "Parade of Cancer Survivors," which is the heart of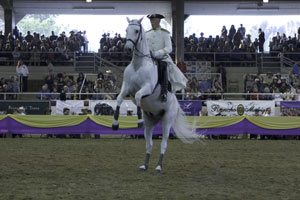 the "Fiesta of the Spanish Horse." Each year, proceeds from the event go to benefit cancer research. During the Parade, cancer survivors ride their beloved Spanish mounts while the audience erupts in thunderous applause and a standing ovation.
Along with competition and spectacular performances—all to benefit a good cause—there's plenty of ethnic food to sample and a variety of vendors selling authentic Spanish tack and equipment.
An event not to be missed, "The Fiesta of the Spanish Horse" plays an important role in integrating communities by honoring horses and people steeped in rich tradition.
In 2007, "Fiesta of the Spanish Horse" runs May 3-6 at the Los Angeles Equestrian Center, in Burbank, Calif. For more information, visit www.fiestaspanishhorse.com.