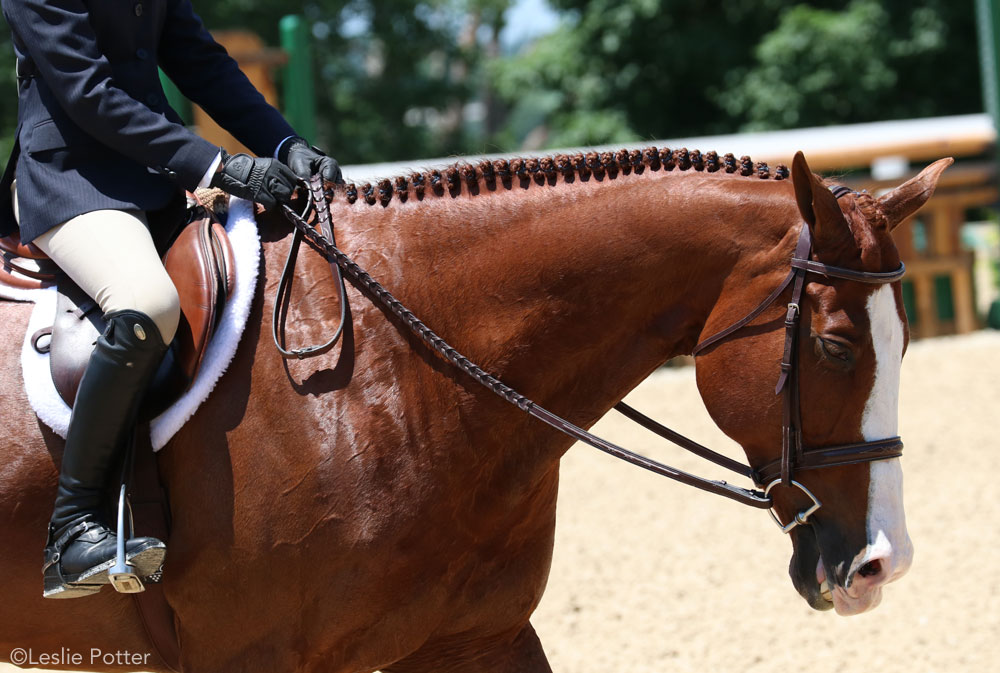 Breathing in the new leather fragrance in the tack shop, facing a wall of tall English boots, all gleaming softly, waiting to be tried on, you wonder: Will I be Cinderella, or an ugly stepsister when I take up the boot pulls? How do I find boots that fit like a dream? We've called upon boot experts to explain the finer points of finding the perfect fit, so you can ride happily ever after in your new tall boots. Notes Holly Andrews, English product manager at the popular boot manufacturer Ariat, "Great performances require great-fitting boots."
Stylistic Notes
Typically, hunter/jumper riders wear field boots with laces at the ankles. This allows more flexibility, and when broken in, the boot will have two or three folds at the ankle.
Dressage riders traditionally favor dress or dressage boots, which don't have any laces, for their clean lines. The back spine of the boot may be reinforced with a stiffener to maintain the boot's shape and support the rider's leg. European-styled dress boots often feature a square toe.
The Spanish top is in vogue for both types of boot—this cut is higher on the outside of the leg for an elegant, elongated look without raising height at the back of the knee for comfort and function.
According to Cyndy Williams, buyer for Dover Saddlery, classic field boot styling includes a punched toe cap (perforated trim across the toe), a swagger tab (ornamental strap on the outer top of the boot) and a spur rest. Trends in field boots she cites include elastic laces, fieldmaster stitching design (which outlines the heel area and is placed to avoid putting pressure on the ankle bone) and a high Spanish top.
For a dress boot, Cyndy says, classic styling consists of a moderate Spanish top. Three-quarter or full lining give the dress boot a stiffer shaft. Higher-end dressage boots are fully lined, and feature a high Spanish top and a back stiffener. Across the board, Cyndy says comfort is  a trend: zippers, stretch leather, elastic gussets and comfort technology in the insole are featured in various styles of tall boots today.
Ariat's Holly Andrews also calls attention to new construction like the "window" available on some boots, such as the Ariat Crowne Pro Field Boot. The window is an area of softer leather on the inner calf of the boot. "It allows the rider to have a closer feel on the inside of the leg, while the full outer lining maintains the shape of the boot," she explains. Furthermore, she says, customers can look for upgraded leathers that are soft to the touch and make boots even more comfortable.
Although brown field boots were a fashion of yesteryear, and some custom boots can be special ordered in other colors, black is still the new black and the old black—same as it ever was.
If the Boot Fits
Trisha Letson, Dover Saddlery retail store manager in Wellesley, Mass., is an expert at fitting customers for tall boots. "When boot shopping, allow yourself lots of time for trying on, and if possible bring the breeches and socks that you will be wearing the boots in," she advises. She also suggests trying tall boots on over thin plastic bags to aid in the easing on and off of boots with minimum discomfort and to ensure a better fit.
Keep in mind that feet tend to swell and will be larger at the end of the day, so be aware of that when shopping to make sure your boots will fit comfortably all day. Gaining or losing weight or muscle will also affect the fit of your boots, so Trisha notes, "If you plan on starting a diet or exercise program, you may want to hold off on being measured for custom boots and buy off-the-rack boots that fit you at the time of purchase."
The right height is key—you don't want to buy boots that are too short. Cyndy Williams describes the perfect fit for field boots: The inside of the boot should be right below the back of the knee once broken in. It will be broken in at the ankle—with two or three folds. A dress boot will be similar, but depending on the level of stiffness offered they will not drop down as much and the ankle area will not fold as much.
When buying tall boots, allow an extra inch or two of height for the boots to drop and break in, because leather does stretch, Cyndy notes. "A field boot will drop about 11⁄2 to 2 inches and dress boots about 3⁄4 to 1 inch depending on the stiffness of the leather," she explains. You can expect finer, softer leather to give more, and thicker leather to give less.  "Properly fitted boots will at first be uncomfortably tight around the top of the boot and should come up into the back of the knee," Cyndy says. "It will initially be difficult to pull on and off." As the boots break in, they will stretch and drop and become more comfortable. The most common boot shopping mistake both Trisha and Cyndy see is not accounting for boots to drop and break in (stretch), so make sure you factor this into your measurements or fitting. Boots can be too tight if at a later stage a different type of breech is worn (thicker fabric); however, a good tack store can usually assist by getting the boots stretched a little, according to the Dover Saddlery experts.
Fit Problems, Solutions and New Innovations
According to Cyndy, an extra slim calf and an extra wide calf are the most difficult to fit. Very tall and very short legs also have problems with fit and often need a custom boot. However, she adds, "Many manufacturers do offer slim to wide or extra wide calf widths and short, medium and tall heights. A wide calf sometimes can have a gusset added to the boot to allow for more stretch."
A high instep can also pose a fit challenge. "A high instep generally requires either a zipper, or in a field boot we can sometimes do a nine-eyelet boot," Trisha Letson comments. (The standard number of eyelets is usually seven; some boots such as the Ariat Crowne have nine, or custom boot makers offer it as an option.)
"If the zipper goes through the counter (stiff heel area) of the boot it can help those who have high insteps," Cyndy Williams explains. Additionally, she says, "Zippers make it easier to get a boot on and off. The zipper allows for the boot to be more tapered at the ankle and gives a more elegant look to the leg."
Stretchy gussets and the use of stretch leather are other innovations that make it easier to get boots on and off and help with fit. Notes Trisha Letson, "Boots with gussets ensure less gaping for those with an ultra thin calf and also aid in lessening the discomfort for those with a larger calf."
Because riders spend as much if not more time on their feet than on the back of a horse, comfort is a priority. Ariat is one of the manufacturers at the forefront of providing technologically advanced boots for the equestrian athlete. "Two major complaints from riders—comfort and fit—have been at the center of Ariat's design and development work for tall boots," Holly Andrews says. "Tall boots used to be really uncomfortable to ride in, never mind to walk in. Ariat looked to solve this problem through both technology and construction. First, we created patented technology to deliver athletic shoe comfort in tall boots. We added things like our ATS shank to provide a wide base of support for the foot (essential for all-day comfort). We added a Smarter Cushioning system to our heel and encapsulated gel to the footbed so stirrups don't make your feet go numb."
Breaking In Isn't So Hard to Do
When you get your boots home, expect to take a little time to break them in. Trisha and Cyndy offer their advice to make the process as painless as possible. "It helps to wear a thinner pair of breeches and socks then normal, so the boots don't feel as tight," Cyndy Williams says. "Wear your boots around the house with plastic bags underneath, so they are easy to get on and off. Don't wear your boots directly against a bare leg; it will be very hard to get the boots off if they are tight."
To help with discomfort behind the knee, Trisha explains that riders can use heel lifts inside the boot until the boots have dropped a little bit. She also advises using a good boot conditioner on the back of boot to soften it as well. It helps when breaking in new boots to wear them for short periods at first, she says. "Fifteen minutes at a time, and walk around in them one to two times a day for about a week or two, and then ride in them."
Boot Care
Once your boots are broken in to perfection, you'll want to make every effort to protect your investment. If possible, reserve your tall boots for riding, and wear your muck boots for barn chores. If you'll be doing barn chores prior to riding, Trisha recommends wearing rubbers over your boots. Regular cleaning should be part of your routine. Boot leather is quite different than the leather used for tack. "Use only cleaner and conditioner specifically made for boots," Trisha advises. Proper storage is also important to preserve your boots' shape. Trisha urges riders to use full boot trees. She also suggests storing your boots in a boot bag.
While zippers make it easier to get boots on and off, the disadvantage is that they can break. To keep zippers working smoothly, Trisha reminds that it is essential to prevent debris from accumulating in the teeth. Another helpful tip she offers is to use a wax pencil (lead pencil or candle wax can work just as well) on the zipper to ensure that it will not stick.
Boot Up
Finding the right boots might entail some trial, but knowledgeable customer service and innovative new design details will help you get the right fit. "Everyone has a different calf shape and leg height. Unfortunately not all brands will fit everyone. Have someone measure your leg and look through the size charts in catalogs to determine what boot will fit your leg the best," advises Dover Saddlery's Cyndy Williams. Ariat's Holly Andrews concurs. "Trust a specialist! Trained tall boot specialists can really help riders understand the range of tall boots available, help them find the proper fit, and suggest care items to keep their boots looking new."
Liz Moyer is HI's Editor and is currently trying to break in her own pair of tall boots.