Each year more than 30,000 Thoroughbreds are registered with the Jockey Club. Out of that annual foal crop, one will go on to fame as a Kentucky Derby winner at age three. A few more will accomplish notable racing careers, and many of them, particularly mares, will move on to a life as breeding stock.
But what happens to the colts that don't perform well or the fillies that can't be bred? The career of a racehorse is very short, with some horses retiring younger than horses in other disciplines even begin their saddle training. Thousands of well-bred, finely-tuned athletes are retired from the track every year and need somewhere to go.
Fortunately, fans of the breed have come together to help give Thoroughbreds a chance at a happy, productive post-racetrack life. Organizations such as the Thoroughbred Retirement Foundation (TRF) take horses whose racing days are over, retrain them and find them new homes.
Riding an Ex-Racehorse
"Thoroughbreds are sensitive, smart and athletic, which makes them great riding horses," says Susanna Thomas, director of the Maker's Mark Secretariat Center, a retraining and adoption facility managed by the Thoroughbred Retirement Foundation. "Because they are so sensitive, they get a reputation for being flighty or stupid, and that often isn't the case at all."
Racehorses are broke to ride, but because their training is so different from the training given to other horses, they don't always understand the typical riding style of a pleasure or show rider. Thomas likens this difference to a language barrier.
"If you grew up in Greece, and suddenly at age five someone dropped you into a school in Thailand and expected you to succeed academically, you would have no idea what was going on," she says. "You would need assistance from someone who understands Thai." Similarly, a horse whose training has been in the racing world will not easily understand a rider who hasn't worked with race horses before. Thomas emphasizes that anyone looking to adopt an ex-racer enlist the help of a good trainer experienced in working with off-the-track Thoroughbreds.
With the right handler and proper training, racehorses can go on to succeed in almost any equestrian endeavor. "If you're patient and take the time to understand them, you'll have a friend for life," says Thomas.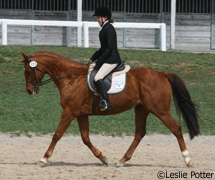 About the Maker's Mark Secretariat Center
The Maker's Mark Secretariat Center (MMSC) is one of several TRF-operated centers around the United States. Opened in 2004, its location at the Kentucky Horse Park makes it an ideal spot for showing the general public what Thoroughbreds can do once their racing days have ended.
The MMSC selectively takes in horses from other TRF centers and horse rescues as well as horses donated directly by their owners. Once the horses have had a cool-down period where they can rest and relearn how to simply be horses, they are gradually put back into training. MMSC staff and volunteers start each horse's retraining with basic groundwork before moving on to riding.
By taking the retraining process slow, the horses can dictate what direction is best for them. Some will go on to excel as sport horses while others become wonderful trail mounts. Some have even gone on to work as successful equine-assisted therapy horses.
The MMSC runs almost entirely through the efforts of volunteers and interns. The Center's internship program brings in three students from area colleges each semester. Besides taking care of the day-to-day operations of running a farm, the interns also work on fundraising programs, work with the public during the Horse Park's busy seasons, help to retrain the horses and, when possible, take the horses to shows.
To learn more about the MMSC and the Thoroughbred Retirement Foundation, visit the TRF website. Keep up with the MMSC at the Secretariat Center Blog.
Read more about retraining the ex-racehorse.

---
Leslie Potter graduated from William Woods University with a Bachelor's of Science in Equestrian Science with a concentration in saddle seat riding.