One of the most common causes of sudden-onset lameness in horses is an abscess.  These occur when bacteria invade a horse's hoof, and the horse becomes lame when the infection reaches the sensitive structures of the foot.  Besides showing varying degrees of lameness, a horse with an abscess will be sensitive to hoof testers or percussion and may have lower leg swelling or an increased digital pulse.
The abscess may erupt on its own, either from the sole of the hoof or at the coronary band.  Otherwise, your vet will pare away the sole to locate and drain the site of infection.
Soaking the hoof several times a day will eventually cause an abscess to erupt and drain. However, some vets now advise against frequent soaking as it may weaken the hoof wall.  Some horse owners instead choose to apply drawing agents, such as ichthamol or Epsom salts, directly to the hoof under a bandage.
The goal in treating an abscess is to draw out the infection and keep the area clean to prevent reinfection while the hoof heals.  Once you have confirmed the diagnosis with your vet, follow the steps below to put your horse on the road to recovery.
You will need a flexible bucket or tub, Epsom salts and poultice pads or iodine.
Bandaging materials include sheet cotton or a diaper, elastic bandage and duct tape.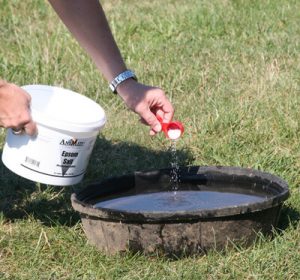 Step 1:
  Mix Epsom salts in a bucket of warm water.  Use enough salts to reach the point of saturation, where no more will dissolve.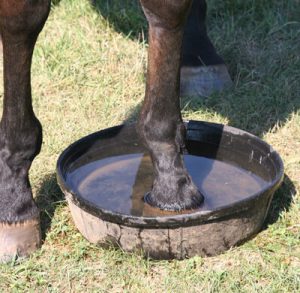 Step 2:  Submerge the entire hoof up to the coronary band and soak for 10 minutes.  This will help draw out the infection and will encourage the abscess to erupt if it has not already been opened and drained.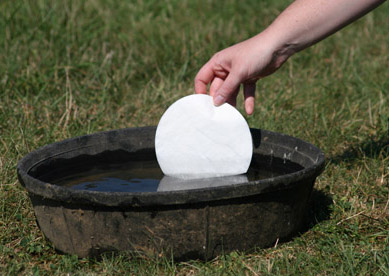 Step 3:  Soak a poultice pad in hot water.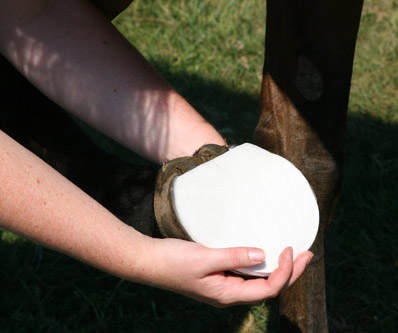 Place the pad over the sole of the hoof.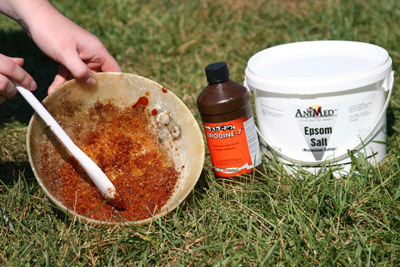 If you do not have any poultice pads, you can make a poultice with Epsom salts and iodine.   
Pack the paste into the hoof so it covers the entire sole.
Step 4: 
Wrap the hoof in a diaper or sheet cotton.  Secure the diaper by tightly wrapping it with elastic bandage. Cover the entire bandage with duct tape for durability. If your horse will be turned out or is prone to destroying bandages, you may want to use a hoof boot.
For step-by-step instructions on bandaging a hoof, click here.
Your horse may be sound in as little as a couple of days.  Once the abscess has drained, keeping the hoof protected from dirt and debris is the best way to avoid complications or reinfection.  And of course, always consult your vet to help you decide the best course of action. 
For further reading on hoof abscesses, click here >>