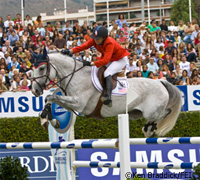 Show jumper Laura Kraut with her World Equestrian Games mount, Cedric.
Show jumper Laura Kraut is an old hand at international competition. She attended the 1992 Barcelona Olympics with Simba Run as a reserve rider for the United States team and she competed at the 2000 Sydney Olympics. Two years later she was a reserve for the World Equestrian Games in Jerez, Spain.
In 2008, Laura and her new partner, Cedric, helped the U.S. show jumping team win team gold at the Beijing Olympics.
Laura and Cedric have spent most of 2010 competing in Europe in preparation for the 2010 Alltech FEI World Equestrian Games. Now they are back in the United States and are aiming for gold.
We caught up with Laura and asked her a few fun questions so we could learn a bit more about this seasoned show jumper.
What would Cedric say about you if he could talk?
Cedric is like my child. He's a member of my family. He always acts like he's pleased to see me'but that might just be because of the treats I give him!
If you weren't a show jumper, what would you be?
I had planned to go to law school and become a lawyer. But my plans changed. Being a rider was always my first choice of a career.
Who would be your first choice to play you in a movie?
Maybe Sandra Bullock.
When did you last muck out a stall?
Two days ago in the United Kingdom.
Are you a healthy eater?
I am. I'm an "everything in moderation" person. I never eat fried foods. I watch what I eat.
See all World Equestrian Games show jumping news >>
Keep up with the latest World Equestrian Games news with HorseChannel's exclusive WEG newsletter. Subscribe now >>