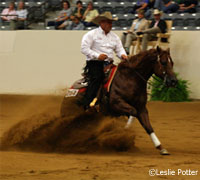 After the United States was awarded the gold medal in the team reining competition at the 2010 Alltech FEI World Equestrian Games, Associate Editor Kim Abbott had the opportunity to talk to team member Shawn Flarida and ask him some questions to give HorseChannel.com readers an exclusive look into his congenial personality, which shined bright as he laughed and showed his good humor.
HC: If you could choose any actor to play you in a movie, who would it be, and why?
SF: Clint Eastwood. He's pretty tough.
HC: If RC Fancy Step could talk, what would he say about you?
SF: Don't ride me as much.
HC: Have you ever tried another discipline?
SF: No.
HC: If you were a horse, what breed would you be and why?
SF: I'd be a Mustang and be wild.
HC: If you weren't involved in the horse world, what would you be doing for a living?
SF: I don't know, and it scares me to think about it.
HC: What item of tack or riding apparel could you not live without?
SF: Stirrups. [Going without stirrups] would be a little hard on the body.
See all World Equestrian Games reining news >>
Keep up with the latest World Equestrian Games news with HorseChannel's exclusive WEG newsletter. Subscribe now >>