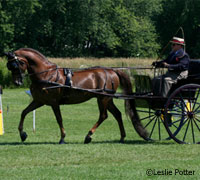 Driving can make a great second career for an older horse, or an intermediate step in a younger horse's training to get him accustomed to wearing tack and responding to the bit. Generally speaking, driving is easier on a horse's back and joints as they are not bearing as much weight directly. It should go without saying that driving at speed for long periods of time or going up and down hills will still cause wear and tear on the joints, so any type of work should be done conservatively with older horses or horses that are still growing.
Ponies and miniature horses are often ideal for driving as many breeds and bloodlines have been bred for that purpose. Even a miniature horse can pull an adult in a cart. Driving can also be a great second career for a pony or small horse that has been outgrown by his young rider.
Driving is an option for horse and pony owners who are unable to ride or those who prefer not to. Driving provides training and exercise for a horse and gives owners quality time with their equines without ever having to put a foot in the stirrup.
Any horse can benefit from the exercise of driving. For a show horse in training, working in harness can add variety to the training routine without foregoing the physical benefits of regular work. Pulling a cart is like cross-training for a riding horse. Driving works different sets of muscles than riding and when properly done will help strengthen the muscles of your horse's hind end and topline. While some die-hard riders are skeptical of working out of the saddle, upon actually giving it a try, most will find that driving can be a fun way to work your horse.
Go on to Prerequisites for a Driving Horse
Go on to Driving Equipment