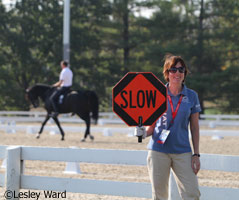 When Bridget Bellocq, of Lexington, Ky, heard that the Alltech FEI World Equestrian Games were being held in her town, she knew she wanted to be a part of the excitement. As soon as she heard that the event's organizers were looking for volunteers, Bridget signed up. She attended several training sessions and was fitted for a volunteer uniform.
Until recently, Bridget was the circulation manager of a Thoroughbred racing magazine. She's an avid rider and takes lessons on an assortment of horses. She also rides horses for several friends and recently won a one-day event on a borrowed off-the-track Thoroughbred.
We caught up with Bridget after her second day of volunteering at WEG, and asked her about the experience.
What made you decide to be a volunteer?
I thought that it was a once in a lifetime chance. It was here in Lexington and I wanted to be a part of it.
Do you like the uniform?
I love the uniform! I got two polo shirts, a cap, a lightweight jacket and a backpack. We look just the same as the FEI stewards, so people have been coming up to me asking all kinds of questions that I can't answer!
What have you been doing as a volunteer?
I'm volunteering for 10 days and right now I'm working as an equine road crossing guard. There are 13 road crossings in the Kentucky Horse Park. I'm located near the main outdoor stadium near the dressage practice arenas and the eventing dressage practice arenas. Lots of dressage horses use my crossing. When they approach, I stop the traffic. There's a lot of traffic here. I've seen Gators, golf carts and semis. I also tell drivers to slow down when they're passing the practice arenas so they don't spook the horses.
Have you been watching the riders and horses? Are you learning a lot?
Absolutely! I'm in the best place because I'm really into dressage. I watched the United States team school on my first day volunteering. I also saw Moorlands Totilas and Edward Gal practice yesterday. It was amazing.
I've been studying the riders. They sit so straight and tall! And I've been watching how they use their spurs. Most of the riders don't use dressage whips. I'm learning a lot.
What's been the hardest part about being a volunteer?
Being outside in the scorching heat. It was 93 degrees today. We have to stand outside all day. It was tiring.
What's been the most fun about volunteering at the Alltech FEI World Equestrian Games?
I think just being here and being able to watch all of these Grand Prix dressage horses being ridden. It's great to be around all of these people from different countries. The atmosphere is electric. It's really cool!
See all World Equestrian Games news >>
Keep up with the latest World Equestrian Games news with HorseChannel's exclusive WEG newsletter. Subscribe now >>