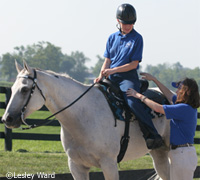 Q: I'm interested in becoming a riding instructor and I'd like to find a good certification program. Do I need to go through a college or University?
A:
It has often been pointed out that most states require hairdressers to be licensed, but very few have any sort of certification in place for riding instructors. This discrepancy is alarming since an unqualified riding instructor can cause harm far worse than a bad haircut. Currently, Massachusetts is the only state that requires certification. Maryland requires licensing of riding stables. But anyone with a horse in their backyard in any other state can go into the riding lesson business, and the fact is, they will probably bring in some students.
Not all uncertified instructors are unqualified, and a certification doesn't guarantee a great instructor. So why bother going through the process? A certification shows that you have some demonstrable knowledge of horses and riding and have made your career as an instructor enough of a priority to pursue certification and pass the tests. Some programs will also help you with networking, marketing advice and dealing with liability insurance.
Several colleges and universities offer two- or four-year equine studies degrees. If you're thinking about taking that route, look at the curriculum and make sure you select a program that suits your interests. Some are geared more toward stable management or pre-veterinary studies. Look for a program aimed toward aspiring instructors and trainers.
A specialized equine degree is not a requirement for teaching riding. If you already have a strong background with horses and aren't planning to go back to school, there are a few certification programs in the United States that are reputable and well-respected in the industry.
The American Riding Instructors' Association (ARIA) has one of the largest certification programs. Candidates pick from fifteen specialties in one of three levels of proficiency. Candidates take general knowledge tests designed to determine their knowledge of horses, riding, teaching, and their own personal philosophy of riding instruction. They also take tests in each of the specialties in which they are seeking certification. Instructors going for their Level II or Level III certifications must also submit a video of themselves teaching a lesson for each specialty.
The Certified Horsemanship Association's (CHA) certification program brings applicants to a test center where they teach practice lessons, have their riding evaluated, and participate in workshops. Like the ARIA's program, candidates must also complete written tests. The CHA offer several different areas of concentration as well, though they are not as comprehensive as the ARIA.
The United States Dressage Federation and United States Eventing Association both offer their own riding instructor certification programs if you aspire to teach either of those disciplines. Both of those programs require previous teaching experience and are something to work up to once you've started your career as an instructor.
Keep in mind that the best way to prepare yourself for both certification and for a career as a riding instructor is to take regular lessons with a qualified instructor, attend clinics from respected trainers in your chosen discipline, and ideally, work as an assistant to a qualified instructor to get hands-on experience in the business.
–Leslie Potter
Resources
American Riding Instructors Association
Certified Horsemanship Association
United States Dressage Federation
United States Eventing Association
Massachusetts Riding Instructor Licensing
Maryland Horse Stable License
Ask your horse questions on the HorseChannel.com Forums >>
See more Expert Q&As >>
Submit your Ask the Expert question >>