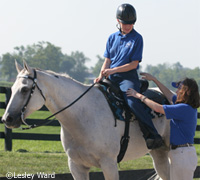 Q:
I need help finding a credible trainer who won't bankrupt my budget. I've heard so many horror stories. What should I look for in a good trainer? What questions should I ask? What's a reasonable amount to pay for training?
A: Since horse trainers aren't required to undergo any sort of licensing or certification in the United States, pretty much anyone can declare they are a professional and charge a fee for their expertise. While it seems like bad word of mouth would soon force them out of business, that isn't often the case. They either rely on a continuous batch of new, naive clients or they simply pull up stakes and relocate. Yet don't let these bad apples keep you from your quest. There are plenty of wonderful professional trainers out there who have the skills, talent and personal integrity to help you and your horse. Here are a few tips on how to find them.
Begin by having a clear vision of what you want done with your horse. Do you want professional training so your horse can compete in a particular discipline, like jumping or reining? Then you'll need someone whose focus is on that area with current, documented success. They needn't be the trainer of a World Show champion, but they should be producing ribbon-winners at the level where you and your horse fit. If you're more interested in general, all-around training, or your horse needs schooling to address a bad habit he's acquired (like bucking or bolting) then search for a trainer who promotes their ability to work with green or "problem" horses. Essentially it's like shopping for a specialist. Beware of any trainer who says they do everything. Unless they manage a staff of assistants, such multi-tasking is unrealistic.
Once you've narrowed your search to a few trainers, visit their stable and watch them in action. Do the horses seem fit, healthy and happy? Just as important, do the clients seem to be having fun? The overall atmosphere at the barn is especially important if you intend to take lessons, too. Though you're hiring a trainer for their horsemanship skills, you won't be happy if their personality and teaching style are unbearable. When the trainer has a free moment, ask plenty of questions and expect direct answers. Does the training fee include board? How many rides are included each month? Are lessons extra? What happens to the schedule if the trainer is away at a show or becomes ill or injured? A true professional should have printed material handy that explicitly spells out set fees for services. Your monthly bill shouldn't be a surprise.
Predicting a reasonable charge for training is difficult, because it can vary from region to region. In general, trainers working in metropolitan areas are more expensive, because land for horses is at a premium. But expect some variation in rates charged in your immediate area, regardless of where you live. For example, someone with a string of national champions in their barn, and who offers posh services and amenities, may charge more than a no-frills trainer who caters to pony club riders and backyard horse owners. Yet don't rely simply on price to make a decision. Sure, training fees must fit your budget, but every dime will be wasted if you don't do your homework and find a trainer who's a true professional.
–Cindy Hale
Discuss your horse questions on the HorseChannel.com Forums >>
See more Expert Q&As >>
Submit your Ask the Expert question >>