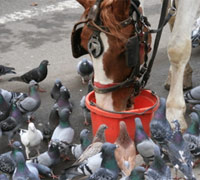 Q:
I have a lot of birds living in my barn. I've been told that bird droppings can be harmful to horses if ingested. I scrub my horses' feed and water buckets twice a day. Should I be worried about the bird droppings? What kind of problems can they cause?
A: In all actuality, it is wildlife of the four-legged variety that is more harmful to horses than those with wings. Opossums, the definitive host of Sarcocystic neurona, the causative agent of equine protozoal myelitis (EPM), a progressive neurodegenerative disease, are a real threat to your horse's health. Other mammals such as skunks and raccoons (as well as opossums) can harbor rabies, an all-too scary thought for any barn. While it is true that bird droppings can and do carry some nasty pathogens, horses seem to be somewhat resistant to their effects. The most common pathogens encountered with bird droppings are fungal, and are usually found in soil containing bird feces, rather than fresh bird droppings. In an environment containing such fungal spores, they are usually stirred into the air and inhaled, causing nasal or sinus infections or a fungal pneumonia. Rarely does a university veterinary hospital come across an equine fungal pneumonia, meningitis or colitis; these are more commonly seen in dogs, owed mostly to the fact that the barn dogs are the ones running around, sticking their noses into dusty, dirty places while the horses are staying out of trouble in the pasture!
The biggest concern about excessive bird droppings is merely general sanitation. Will your horse become deathly ill if he drinks from a bucket tainted with fresh bird droppings? Probably not. But no one wants to see bird feces in her horse's clean water bucket. Or on the saddle you just polished. General barn upkeep, such as what you're doing by keeping buckets clean, sweeping aisle ways, and ensuring feed bunks are bird and rat-proof are all things that lead to a generally healthier environment for your horse. Having said this, some barns, due to their design or location, seem to be havens for virtual flocks of birds such as barn swallows. If this is the case, they become a nuisance. There are numerous companies that make bird nets to place in the rafters of the barn to prevent roosting. You can also place some owl decoys around the barn. Additionally, I have had clients play recordings of bird distress calls on their speaker systems which, if you don't mind listening to the noises, do a very good job deterring our feathered friends from hanging out in the barn. A few good barn cats may not hurt either.
Ask your horse questions on the HorseChannel.com Forums >>
See more Expert Q&As >>
Submit your Ask the Expert question >>