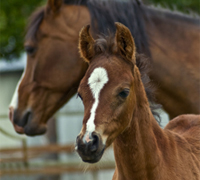 Q: I own a five-year-old mare, and even though she's special to me, I know she's not breeding quality. I've heard a lot about overbreeding and unwanted horses, and I want to be a responsible owner. Is there any kind of safe and effective birth control method for mares that I could use for her?
A:
It is true there is an unfortunately large portion of the horse population in the US that is unwanted, making reproductive responsibility a very important concept to impart on horse owners. The concept of birth control for females of the equine species is quite a bit different than what is encountered with other companion animals such as cats and dogs in that it is rarely utilized. This is primarily due to the fact that the most common form of birth control for female companion animals, the ovariohysterectomy (the surgical removal of the ovaries and uterus), is an expensive, invasive abdominal surgery for horses. Castrating male horses does not require a trip to an equine surgical facility, but rather field anesthesia and a relatively short procedure that is minimally invasive, requiring only the removal of the testicles, which are outside of the abdominal cavity. Alternatively, removal of a mare's uterus and ovaries brings not only significantly higher risk of infection and lengthy recovery time, but is cost prohibitive. Therefore, means to control companion horse populations in the US rely solely on the sterilization of the male members of the species.
Having said this, there are chemical means of mare contraception that are available, although not commercially. The Bureau of Land Management (BLM) has been utilizing long-acting contraceptive vaccines to control herd sizes of feral mustangs for a few years now as part of an effort (in conjunction with increasing adoptions) to reduce the growing numbers of these animals on public land. There does not seem to be a push to have this contraceptive vaccine commercially available, most likely due to the differences in goals of the two equine populations: use in mustangs is strictly for long-term population reduction. The US companion equine industry does not yet seem to require this.
Occasionally, mares develop ovarian tumors that produce high levels of sex steroids that result in the mare acting overly masculine to the point of dangerous aggression. These mares are candidates to have their ovaries removed, thereby sterilizing them in the process.
In summary, the companion horse birth control issue (meaning, excluding feral mustangs) rests mostly on sterilizing the male population through surgical castration. For your mare, the best birth control is abstinence; just keep her away from stallions.
— Anna O'Brien, DVM
Ask your questions on the HorseChannel.com Forums >>
See more Expert Q&As >>
Submit your Ask the Expert question >>