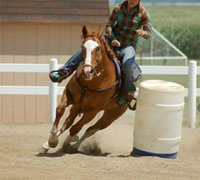 Q: My barrel racing gelding is generally sound and healthy and I want to keep him that way. He's 16 now, and I am concerned about keeping his joints healthy. Is there anything I can do to help preserve his joints?
A:
Degenerative joint disease (DJD), also known as osteoarthritis (OA), is a progressive condition typically seen in older horses (and humans!). Being progressive, it often silently develops and by the time radiographic changes appear and the horse is clinically lame, the damage is done and the condition is only managed, not cured. That said, you are in the right frame of mind to start preventative care as early and as best you can, since there are management practices out there to help slow the development of DJD.
Skeletal joints are a surprisingly complex anatomical entity. These joints have evolved to not only allow for smooth bodily movement, but also to create a shock-absorbing mechanism. DJD develops as this shock-absorbing mechanism breaks down in mainly two ways: by the wearing down of the articular (joint) cartilage which lines the ends of bones when they meet at a joint, and by the decrease of synovial fluid, which is the viscous, highly protective fluid within a joint that provides lubrication for movement and nourishment to the tissues within.
Most people in the horse industry are familiar with joint supplements and this is often the first line of defense when it comes to helping prevent the development of equine arthritis. There are many oral products on the market now to help sustain the cartilage and synovial fluid of a horse's joints and they are labeled as chondroprotectants (the prefix chondro- means "relating to cartilage"). Most of these products contain chondroitin sulfate, glucosamine, or hyaluronic acid and sometimes combinations of these. Each of these ingredients is a building block for articular cartilage so adding them to your horse's diet can help maintain the cartilage he already has and help repair cartilage that is slightly worn. Many of these chondroprotectants are labeled as everyday additives in your horse's feed and for true effect, should usually be added as a constant supplement, year round. There are many brands on the market, so be knowledgeable about what you are buying – these supplements are not regulated by the FDA and therefore each brand can have varying concentrations of the key ingredient. Enlist help from your veterinarian when picking out which one is best for your horse.
There are also injectable joint supplements on the market. These supplements were developed to circumvent the sometimes incomplete gastrointestinal absorption of oral supplements. Intramuscular (IM) and intravenous (IV) injections of polysulfated glycosaminoglycan (Adequan) and hyaluronic acid (Legend), respectively, are available with much higher concentrations of active product than the oral supplements and therefore can be given less frequently, however they can be more expensive and require either a veterinarian or someone with experience giving IM or IV injections to administer them to your horse.
Other management practices you can easily implement to help prevent arthritis in your gelding include regular exercise and proper hoof care. Regular exercise helps maintain robust circulation to your horse's joints, which helps maintain joint health. Regular exercise also helps keep your horse at an appropriate body weight – overweight horses place greater stress on their joints. Regular trimming of your horse's hooves helps maintain hoof balance. Unbalanced feet can cause undue stress on joints, a pre-cursor to arthritis. Regular and proper shoeing, if your horse requires it, should also be maintained.
Other more aggressive forms of arthritis management, such as joint injections comprised of corticosteroids and hyaluronic acid and shockwave therapy, are also available for those horses training heavily or already showing signs of decreased performance due to DJD. Fortunately, good arthritis management starts with prevention. Ben Franklin's quote, "an ounce of prevention is worth a pound of cure", could not be truer when it comes to DJD.
Ask your questions on the HorseChannel.com Forums >>
See more Expert Q&As >>
Submit your Ask the Expert question >>