It is important to know at which point in a broodmare's life that you should stop breeding her. Read on to find out how old your broodmare can be.
Q:
I have a wonderful riding pony that I am thinking about breeding, but I'm afraid she might be too old. She's 20 years old, but has always been healthy. I don't know if she's ever had a foal before. How old is too old?
A: As a general guideline, broodmares are past their reproductive prime as they approach about 15 or 16 years old. That being said, of course there are mares out there successfully foaling past this age and well into their twenties. However, most of these mares have a thorough reproductive history filled with numerous previous healthy pregnancies.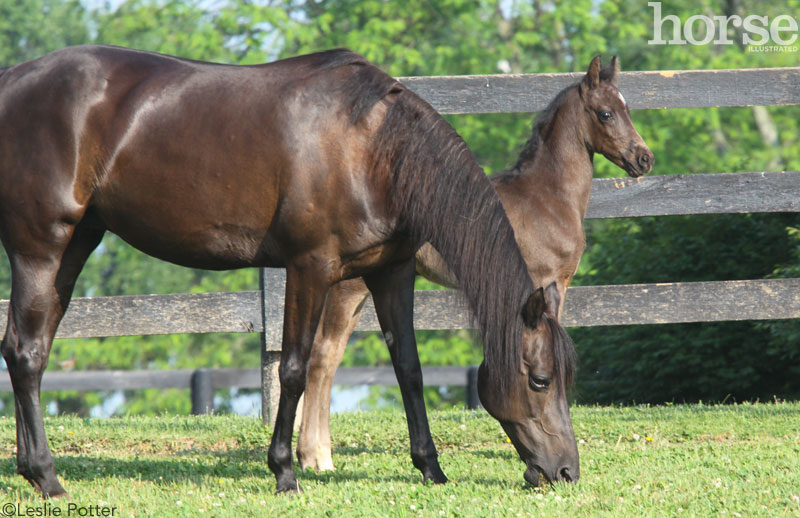 The best thing to do to properly evaluate your mare's reproductive health and capacity is have your veterinarian perform a BSE (breeding soundness exam) on your mare. Rectal palpation with ultrasound will help your vet evaluate the health of your mare's uterus and monitor her ovarian activity. Some mares begin to experience a decrease in the number of estrus (heat) cycles, or have more irregular cycles, as they age and palpation will detect the presence of follicles, cysts, and other ovarian structures, both normal and abnormal.
A uterine culture and biopsy may also be a good idea, especially since you indicate you have no knowledge of your mare's past reproductive history. A uterine culture will indicate the presence of a subclinical uterine infection that would decrease your mare's fertility and a uterine biopsy would show the microscopic details of the endometrium, or lining of the uterus, and may detect abnormalities that could not be felt on palpation.
If your mare is cleared with a clean reproductive exam, there are still further questions to think about before breeding her. Firstly, do you consider her genes good enough to pass on to another generation? You state she is a wonderful riding pony, but as carefully and objectively as possible, please evaluate these aspects further:
How is your mare's overall conformation?
Does she have a good personality?
What health problems has she had since you've had her?
Also consider your intentions for the foal: will you be raising this foal, or selling it? If you plan on selling the foal, does there appear to be a market for it? Do you or someone you know have the experience to properly train a young horse? Will your current financial situation be able to handle the increased costs of a foal in terms of veterinary care and extra feed? Keeping in mind that the last half-decade or so has seen an increase in unwanted horses in this country. Do you have a plan as to where this foal will fit in? Although these may seem like harsh questions, they are meant to get you to honestly assess your mare and think about whether it is really a good idea to breed your mare at all, regardless of her age. I would ask these questions of anyone considering breeding his/her mare for the first time.
My opinion is that I would be hesitant to breed your 20-year-old mare, given her age and her unknown reproductive history. I strongly encourage you to consider the above questions before making your choice on breeding your mare to become an old broodmare.