Nancy S. Loving, DVM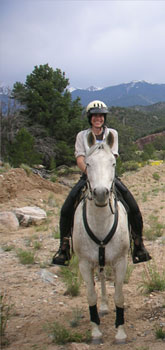 Dr. Nancy Loving's interest in horses began at a young age and continues to figure prominently in both her professional and personal life. She has ridden in dressage and eventing, and in 1983 she discovered the unique challenges of distance riding. Since graduating from Colorado State University veterinary school in 1985, Loving has focused exclusively on equine medicine and surgery. She currently practices at her own Loving Equine Clinic in Boulder, Colo.
Loving has been involved in the endurance world as an FEI-sanctioned veterinarian and as team vet for the United States Equestrian Federation national endurance squad. She brings knowledge to these pursuits drawn from her own experience training and competing her endurance horses.
Loving has authored five books, including her comprehensive equine health care publication All Horse Systems Go. Her other books include Go the Distance: The Complete Resource for Endurance Horses, Conformation and Performance, Veterinary Manual for the Performance Horse, and First Aid for Horse & Rider. Loving regularly writes for The Horse and Horse Illustrated magazines.
Click here to contact our editors and contributors.
Optimal Diet for Cushing's Disease