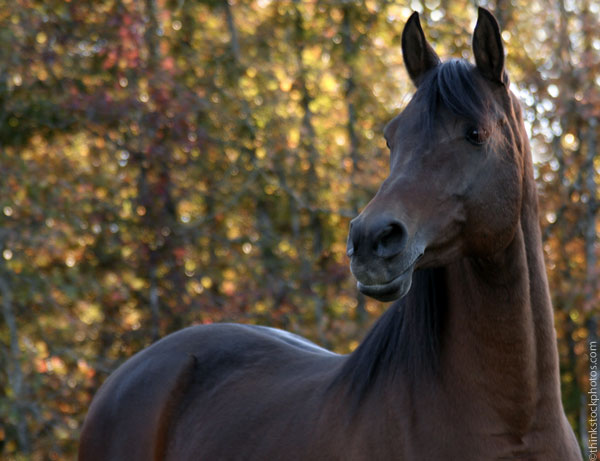 Q:
A few months ago, I acquired a 13-year-old Arabian gelding to use as a lesson horse. He was very skinny when he came to me, and I have not been able to put weight on him. I've been throwing food at him, but he's too distracted by the other horses (or their absence) to finish his hay or grain. This is true whether I feed him in his stall or in the pasture. He doesn't have a nervous temperament. He's more like a hyperactive toddler, though he's fairly easy going under saddle. He's on a deworming program and has had his teeth checked. Other than the weight, he's bright, alert and seems healthy. What else can I do to put weight on him?
A: Arabians are classically known as a hot-blooded breed, meaning their fiery temperaments and extraordinary endurance lends them toward a fast metabolism. As a breed standard, they tend to be on the slender side, much the opposite of many Quarter Horses or Shetland ponies, who often seem to gain weight simply by breathing. This inherent trait in itself is likely working against your goal of adding some meat to your Arab's bones.
You say he is distracted both by other horses and their absence. You may try pairing him with a calm, older horse he can bond with, and hopefully form a solid relationship. Also, since he is a lesson horse, try using him with a handful of the same riders every week. You may also consider letting him chill out and have a month or so off from work, then slowly bring him back into lessons. He may simply need some stability in his life if he has a flighty, sensitive disposition. I would be curious about this horse's history. Finding out anything of significance that happened before you acquired him may help.
Medically speaking, even though he is on a deworming program, have your vet take a stool sample and look at it under the microscope to physically count any parasite eggs and identify their type. Who knows what he's been dewormed with in the past – there's a possibility he's developed a level of resistance to a particular dewormer that just isn't getting the job done anymore.
Having his teeth floated is an excellent first step in managing a thin horse. I would now recommend having the vet out for a more general physical exam. Sometimes a horse may have an unexpected underlying medical condition like a heart murmur that can affect weight gain. I would also have your vet take a blood sample for cursory blood work: a complete blood count (CBC) and a chemistry panel will tell if there is any chronic inflammation internally, and will check that his white and red blood cell levels are normal. Kidney, liver, muscle, and protein levels are also included in this basic workup.
There's a very minute chance that he has some sort of enteropathy, or pathology along the lining of his intestine, that prevents him from digesting and absorbing nutrients in a proper manner, although a common sign of this type of disease is chronic diarrhea, which you don't mention this horse having. I would recommend making all the other changes mentioned in this article first and pursuing this as a last-ditch effort if nothing else works, keeping in mind this would entail an internal medicine specialist and possibly abdominal ultrasounds and even biopsies.
Once any gross medical findings are ruled-out, go back to his diet. You don't mention what you are feeding him, but I would recommend a senior complete feed for starters because it is easily digestible with lots of fiber and well-balanced nutrients. Don't throw a high protein/high energy performance feed at him – given his personality, this may make him even more "hot" in the stall, like giving a five-year-old a chocolate cake and then having him bounce off the walls; in both scenarios they are merely burning up the extra calories and not converting them to fat. I would give small meals multiple times a day – at least twice, if not three times daily. Follow the quantity guidelines the feed manufacturer gives for a few weeks, and then slowly increase the amount if needed. Also include high quality hay. Consider a half and half mix of alfalfa with grass hay. Another cheap and easy way of adding pure fat calories without the extra hot energy is to top-dress the grain with vegetable, corn, or canola oil. Start with one tablespoon for each meal and slowly increase to roughly ¼ to 1/3 cup with each meal. (Increase very slowly to reduce the risk of loose stool).
The key here is to make all diet changes gradually. You want the weight gain to be slow and methodical. Purchase a weight tape and record your horse's weight every two weeks. This will give you quantitative data to refer to as you monitor your efforts.
You may also consider having a dietician look at what you are feeding and make recommendations. Sometimes your local university will have extension agents that will do this for free and sometimes you may have to pay an independent dietician; it depends on where you live.