Reader's Question: My mare is scared to death of dogs. She sees one in the window of a house and gets all antsy. If someone's walking a dog near us, or we have to pass a house with dogs, she's practically out of control. I've only had her a few months, so I don't know if she had a bad past experience. Help!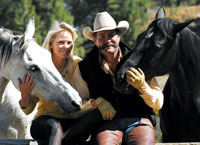 Parelli's Answer: It's natural for horses to be afraid of dogs because dogs are predators. Some horses are comfortable around dogs because they were raised with them, while others are not as sensitive so the dogs don't bother them.
A horse like yours, however, sounds quite unconfident and fearful and the dog situation triggers these reactions in a big way. Here's what you can do:
1. Get her to be more trusting of you. As her leader, she needs you to take control of the situation and protect her. This starts well before she is near dogs. Are you able to back her up on the ground; how about going sideways? These are two important maneuvers because they cause a horse to think. Horses are designed to run, and not think, acting out of pure survival instinct. Unfortunately, this is dangerous for the rider. By teaching her to be responsive when you ask her to back up and go sideways, you can control her movement and, therefore, keep her mentally present.
2. Develop her self-confidence. In our program, we use different lengths of leads to play with our horses on the ground. The longer the line, the more you help the horse develop self-confidence. Holding the line short and close tends to make the horse feel more claustrophobic and want to climb on top of you. See if you can "send" her away from you and get her to touch things with her nose … a gate, a bucket, a barrel, et cetera. The more time you spend on this, the more her confidence will build and the more obedient and self controlled she will become.
3. Find a friend with a dog to help you desensitize your horse. Ask your friend to walk in big circles, about 100 feet wide. Lead your horse behind the dog, as far away as necessary for her to not feel too threatened. Walk behind the dog until you feel the horse begin to relax a little. She'll probably blow and snort, and raise her head up and down. Don't get too close; instead, let your horse choose to get closer to the dog. Your goal is to have her be less fearful and grow more curious, thus wanting to get closer. It's important to not let the horse touch the dog and not to let the dog approach the horse. If this was you, think of the dog as a lion; you would feel much safer if it was moving away from you!
4. Repetition is very important in building confidence, so do this exercise for seven days in a row, taking as much time as necessary for your horse to settle and want to get closer. Even a step closer is a good place to stop. The second important concept is "approach and retreat." Any time your horse feels more tense, increase the space between your horse and the dog.
5. After a few repetitions of the above, you can now play with your horse as the dog walks big circles around you. Ask your horse to focus on you by requesting her to back up, go sideways, et cetera. You need to act as if the dog isn't even there … it's not about the dog. It's about your horse's self-confidence and trust in you as her leader. If you pay attention to the dog, she will too. Unfortunately, it doesn't work to pet your horse to calm her down; it helps more to be proactive, focused and unconcerned yourself. For this reason, too, it's safer to not ride your horse until she's virtually unflappable.
6. Finally, do something every day to help your horse become less reactive in general. Things like jumping jacks, skipping around, et cetera, will probably startle your horse at first, but with repetition and by allowing her to move away from you as she needs, she'll quickly learn not to feel threatened and will start building more confidence. She will develop the ability to think and stay calm instead of panicking and wanting to run.
7. After returning to riding and passing dogs, think about keeping your horse busy when you see a dog approaching … sideways away from the dog, et cetera. Pretty soon your horse will focus on you instead of the dog. When you have a plan, the leader comes out in you, calm and focused … and horses like that. It makes them feel safe.  More about Pat and Linda >>