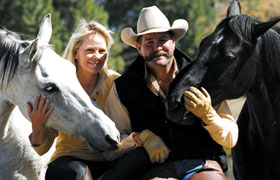 Reader's Question: My mare recently kicked me when I was cleaning her corral. It's not the first time she's kicked someone. What can I do to teach her not to kick humans?
Parelli's Answer:
Horses kick for two reasons: fear and self-defense, or as an act of dominance. A fearful kick is usually quick and tends to happen when a horse feels cornered or trapped. A dominant kick is more of a premeditated attack and not quite as quick; you can see it coming as the horse backs toward you.
In both cases, it's about the relationship you have with the horse. If a horse likes you and respects your leadership, he doesn't feel like kicking you. The key is in building a relationship with your horse.
If the horse is not confident, you need to embark on a training program that builds confidence (as in our Level 1 / Partnership Program) and try not to make the horse feel trapped. If the horse is dominant, then you need to behave as horses do and build respect by moving the horse away and out of your space. Doing jumping jacks is one way to keep your horse out of your space. Don't look at the horse; just start doing arm flapping jumping jacks, but make sure you don't chase your horse. When she moves away you can stop. You also can drive the horse away (Driving Game; game number three in the Parelli 7 Games.) Another good idea is to put a halter and 12 foot line on the horse and have her follow you as you do chores outside.
Finally, think of the horse's corral as her bedroom. People don't tend to think from the horse's point of view and instead they just walk in the corral and go about business without realizing that what they are doing might be offensive or threatening to the horse. Before walking into the corral, get your horse's permission to enter. Do this by standing at the door until she comes over. Give her some treats and rub on her, then politely go in and spend time rubbing and scratching her until she feels relaxed. Only then start working around the corral, and remember to reconnect with her from time to time. Never enter the corral when the horse is not looking at you.
If your horse is dominant, the type that wants to chase you out of the corral, you'd be better off taking her out of the corral when you're cleaning it until you've built more love and respect, and she thinks of you as the leader.