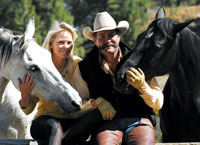 Reader's Question: My gelding tries to put everything in his mouth. When I put on his halter or bridle, he usually grabs it with his mouth and doesn't like to let go. How can I stop this bad habit?

Parellis' Answer: This is the sign of a playful, curious horse that's probably really bored! So everything becomes a game, even putting on the halter. The key to this horse is not punishment, but to play with him. Pretend to put the halter on his leg, rub him all over with the halter, play with his lips, give him treats, teach him to back away from you and to stand on things, even put the halter and the ropes into his mouth!
Think about how to become more interesting to him, to engage his mind with other things, so it's not just the halter that looks like a toy. Horses with this much play drive often have an especially hard time being confined or isolated from other horses, so they really look to you to fulfill those needs. If you watch horses that live together, you'll see that they spend a lot of time nuzzling, scratching, nipping, playing and moving around. The rest of the time they are eating or dozing. Our approach is heavily based on understanding a horse's needs and what kind of "Horsenality" and energy level he has. Through understanding our horses in these manners, we can interact with them in meaningful and highly productive ways that are fulfilling for the horse.
One last important thought: Rather than seeing this behavior as a bad habit, think of it as a talent your horse has. One of our students actually taught her biting, mouthy, playful and curious horse to do things like pick up items off the ground, such as her cap, brushes, saddle pad, et cetera, and to give them to her! Much nicer than slapping him! With this kind of approach you get a horse that wants to be with you, even more than with other horses. More about Pat and Linda >>