Pat Parelli
Born in California, Pat Parelli's equestrian career is diverse, from professional rodeo bronc riding to presenting before Her Majesty the Queen of England at Buckingham Palace.
During his early years as a trainer, Pat found that horses were easy to train; the challenge was teaching people. He knew he had to find a way to help people (who typically lacked horsemanship skills and understanding) become savvier with horses.
In 1981 Pat developed a system of natural horsemanship using psychology and communication—keys that allow people to be successful with horses without fear, force or intimidation.
Today his progressive program has been lauded worldwide by horsemen of all disciplines and skill levels. The program includes levels of horsemanship achieved through home study material, clinics taught by Parelli Licensed Instructors and two-week courses at the Parelli Centers.
Hailed as a master horseman, Pat Parelli can be seen weekly on RFD-TV. Pat and his program are featured in magazines worldwide.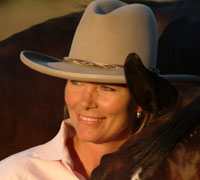 Linda Parelli
Born in Singapore, Linda Parelli moved to Australia when she was 12 and was introduced to dressage.
In a tack store one day, Linda noticed video of a cowboy. As he executed perfect flying lead changes, slide stops and spins—a picture of total harmony—Linda realized that this cowboy, Pat Parelli, was riding bridleless.
Linda signed up for Pat's clinic right away and got immediate, positive results with Regalo, a dangerous horse who had challenged her for years. Linda began to promote Parelli clinics in Australia, and a few years later the dressage rider and the cowboy married.
Today she stars in Parelli tour presentations and the Parelli RFD television shows. She also teaches courses at the Parelli Centers, and produces much of the Parelli written material and educational systems.
Linda and Pat live at the Parelli Centers in Pagosa Springs, Colo., and Ocala, Fla.